KEVIN VUCIC-SHEPHERD, Piccadilly to Jermyn St, 2013
This week we are pleased to feature a stunning photographic work, Piccadilly to Jermyn St, by one of the gallery's newly represented artists, Kevin Vucic-Shepherd. Originally commissioned by the British Academy of Film and Television Arts (BAFTA) for their inaugural annual Art Commission, the image provides viewers with a unique glimpse inside the Academy's iconic building on Piccadilly Street in central London.
Within the cross-sections of the building we see one of BAFTA's many parties illustrated - rooms filled with members of the Academy, the BAFTA logo and archival movie images on the walls, and the historic BAFTA award ceremony for Sir Richard Attenborough playing on the movie screen, which the artist has placed central in the image. Tiny flecks of the bright red theater chairs, illuminated in the dim lighting, mirror the flashes of a red handbag, a dress and a curtain in the adjoining party. Both the interior and exterior of the building seamlessly align in a flattened perspective. A smaller replica of the original image was later gifted by BAFTA and Prince William to Chinese President Xi Jinping during one of his official visits to the UK.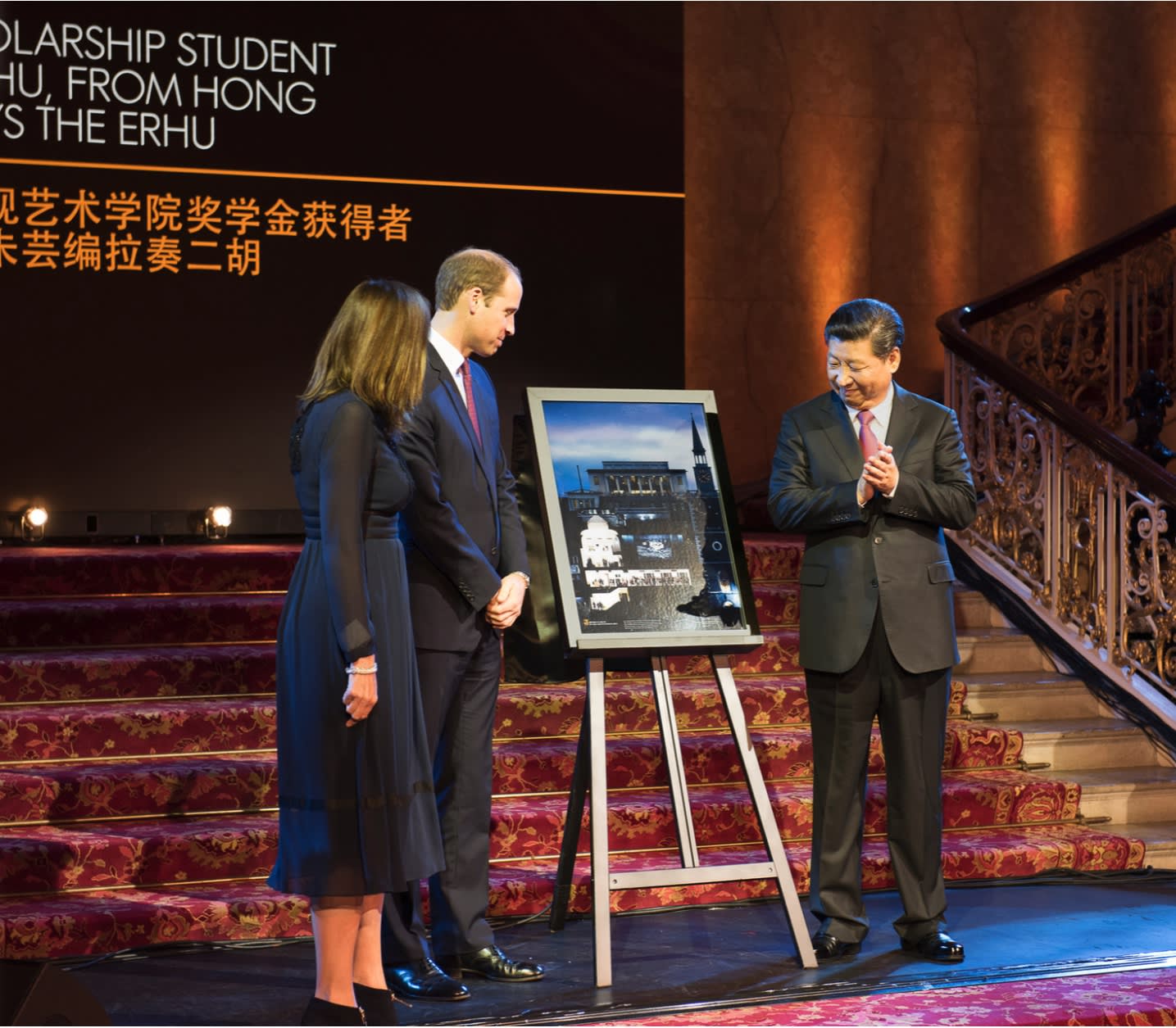 BAFTA's CEO Amanda Berry and HRH Prince William presenting the gift to President Xi Jinping.
The complex process of creating Piccadilly to Jermyn St started with Vucic-Shepherd first making precise architectural drawings to ensure he had the exact measurements of each cross-sectional space. This was a critical step for later composing an accurate rebuilding of the spaces without perspective. Using three medium format digital cameras, the artist took nearly 1,000 images over three days-time and over a month to construct the final work.
Born in Chatham, UK in 1966, Vucic-Shepherd was influenced by art, technology and architecture from an early age and went on to study architecture at the Architectural Association School of Architecture in London upon receiving a scholarship. Although the artist would move into film and photography, his photographic practice is deeply rooted in architectural principals. By examining the relationships between spaces and questioning the primacy of perspective, Vucic-Shepherd has a very unique vantage point in his subjects. Utilizing fragments from hundreds of images he's taken of simple, everyday scenes in urban cities and landscapes, and piecing them back together without the hierarchy of perspective, Vucic-Shepherd transforms simple, banal everyday scenes into complex and revealing worlds.
Kevin Vucic-Shepherd's work is available in limited editions of 6 prints plus 2 Artist Proofs.
To see more of his work, please check his Artist's Page HERE.
KEVIN VUCIC-SHEPHERD (British b. 1966)
Picadilly to Jermyn St, 2013
C-Print on aluminum and plexi
Edition of 6 + 2AP
59 x 44.5 in / 150 x 113 cm
December 8, 2020