NORMAN BLUHM, Untitled White Background, 1967
One of the most innovative artists associated with Abstract Expressionism, Norman Bluhm's work fell into relative art market obscurity for about the last decade of his life and a similar period after his death. This changed with the auction result of $1.13million in 2008 followed by another at $722,000 four years later. Bluhm's work is still hugely undervalued - this wonderful oil from 1965, and in great condition and just one of Bluhm's work in our inventory, is for sale at $58,000. Compare that to the prices made by most of his contemporaries. Importantly in the last decade he has been awarded various major exhibitions and museum shows, culminating in the superb retrospective at the Newark Museum this year, sadly curtailed by the Covid-19 lockdown.
Two major reasons his work isn't yet valued higher are his multifaceted style, which has made his work difficult to categorise, and the fact that a leading dealer did not champion him during his lifetime. In a career spanning six decades, Bluhm essentially produced four bodies of work, from his Surrealist-inspired figurative paintings of the 1940s to his large-scale, almost diagrammatic paintings of the 1990s. During 1959 -1963 he embraced an open and gestural style that resonated with the New York School, but remained resolutely his own. It was also at this time that Bluhm started showing at Leo Castelli Gallery, launching his career in earnest.
At the age of 16 Bluhm became Mies van der Rohe's youngest student at the Armour Institute of Technology, where he studied Bauhaus architecture. Following the Japanese attack on Pearl Harbour, at the age of 20 he enlisted in the army as a bomber pilot, flying in 44 missions until he was sent home severely wounded. WWII profoundly affected Bluhm, as it did many artists of his generation. He did not return to his architectural training and instead went to study art in Paris, with aid from the GI Bill, where he was instantly integrated into the dynamic artistic scene, sharing a studio with Sam Francis and meeting figures such as Giacometti, Cocteau, Joan Mitchell and Riopelle. Bluhm became very close with Matisse's son-in-law, Georges Duthuit, and it was his wife, Matisse's daughter Marguerite, who purchased Bluhm's first paintings in Paris.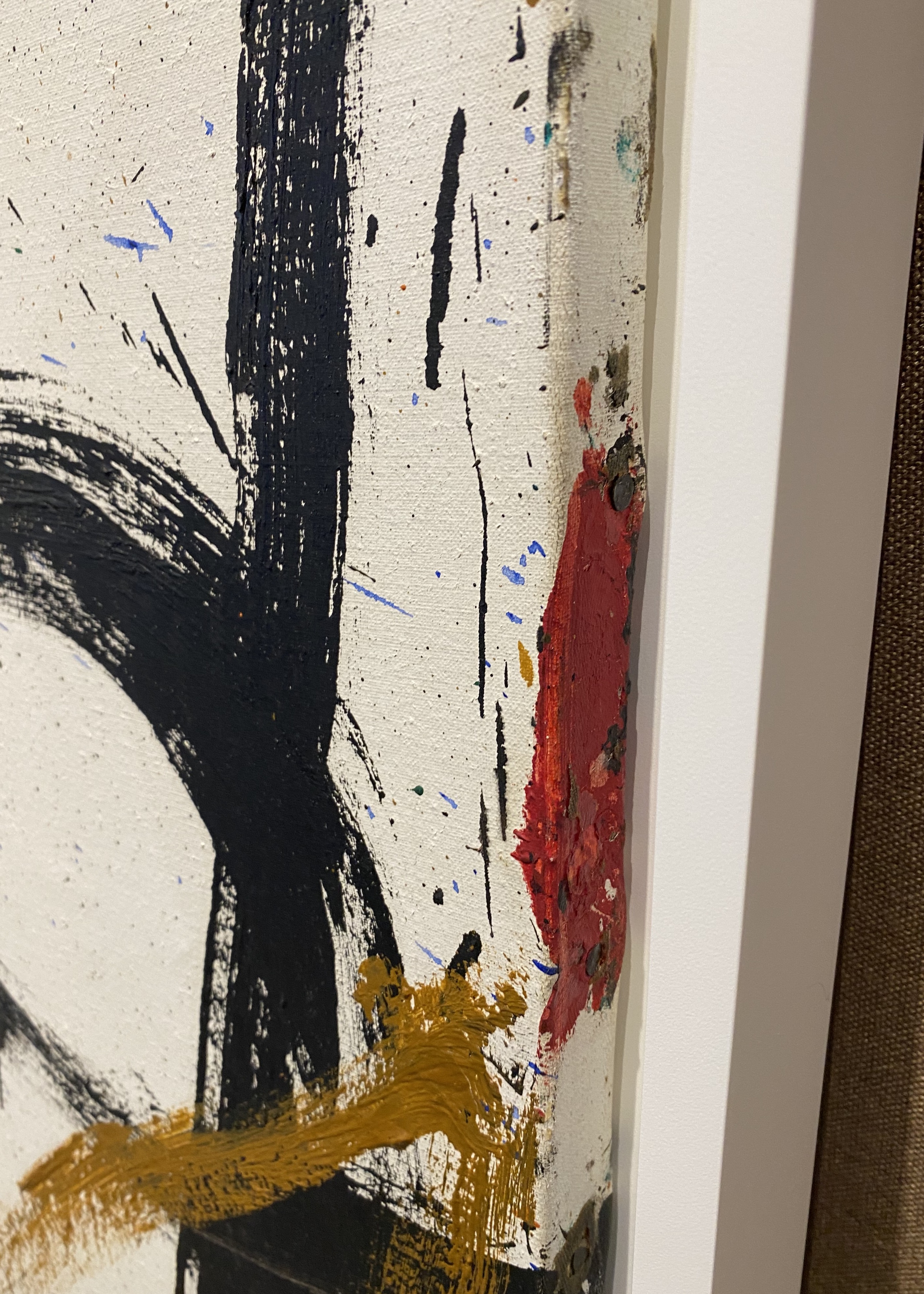 Note how Bluhm worked the canvas even on the canvas overlapping the stretcher
Following a divorce, Bluhm returned to the United States in 1956, fatefully the year of Pollock's death, which was also the year of the seminal Jackson Pollock memorial retrospective at MOMA. This exhibition undoubtedly had a great impact on Bluhm, who went on to frequently spend time at the Cedar Tavern with artists who were establishing the New York School. Upon his relocation to America and marriage to Carolyn in 1961, Bluhm rejected the aesthetic of the École de Paris altogether and instead devoted himself exclusively to De Kooning and Pollock as his main sources of inspiration. Like Sam Francis and Pollock, Bluhm championed the all-over technique of painting, conveying vigorous painterly rhythms in his work through gestural abstraction.
Bluhm's work can be found in numerous major public collections, including the Metropolitan Museum of Art, Smithsonian American Art Museum, Hirshhorn Museum and Sculpture Garden, Harvard University Art Museums, Cleveland Museum of Art, Addison Gallery of American Art and Ball State Museum of Art in Indiana. Galerie Stadler held solo exhibitions of Bluhm's work in 1968, 1970, 1972, 1982 and 1988.
NORMAN BLUHM (American, 1921-1999)
Untitled White Background, 1965
Oil on canvas
29 x 46 in / 73 x 116 cm
Signed & dated 65
September 14, 2020