HENRY MOORE, Square Forms - Eleven studies for sculptures, 1936
The last few months have seen the rare phenomenon of Mayfair streets deserted, giving us the opportunity to look up at the buildings instead of dodging throngs of shoppers, art dealers and construction workers. Time Life building at the junction of New Bond Street and Bruton Street in particular, boasts a beautiful modern façade, for which Moore used Square Forms - Eleven studies to develop the four sculptures. Constructed in 1951-53, the models are integrated into a screen around the building's terrace, visible from New Bond Street. Only 100 yards away from where our drawing is displayed in our Savile Row office, we have enjoyed taking a moment to appreciate life reflecting art.
At one stage Moore had the idea of trying to make the four components of the frieze revolve, but the building work was too advanced and the concept too expensive to carry out. Such a critical degree of experimentation is evident in the work on paper, where each of the eleven studies is unique in design, conceived in the round and suggests a biomorphic progression from one to the next. The work is remarkable as we see Moore's workings from a sketched idea to a more realised sculptural form: a seated figure in the top left morphs into a series of increasingly geometric compositions. We also see Moore lend the figures more finality towards the bottom as shading becomes more comprehensive and precise. These are the Square Forms which bear the most resemblance to Time Life building.
As one of the most influential public sculptors of the last century, Moore closely studied Classical, pre-Columbian and African art, and did many significant drawings as part of the creative process whilst creating original and truly modern sculptural forms. His drawings were not just studies; Moore regarded them as significant works in their own right. His abstractions of organic shapes, natural forms and figures, developed through formidable draughtsmanship, would form an enduring vocabulary reflecting the universality of the human condition.
HENRY MOORE ( British 1898-1986)
Square Forms - Eleven studies for sculptures, 1936
Signed & dated (incorrectly) '34, studio inventory number "546 C" circled on verso
Pencil, crayon & wash on tissue mounted on paper
56 x 38 cm
22 1/8 x 14 7/8 in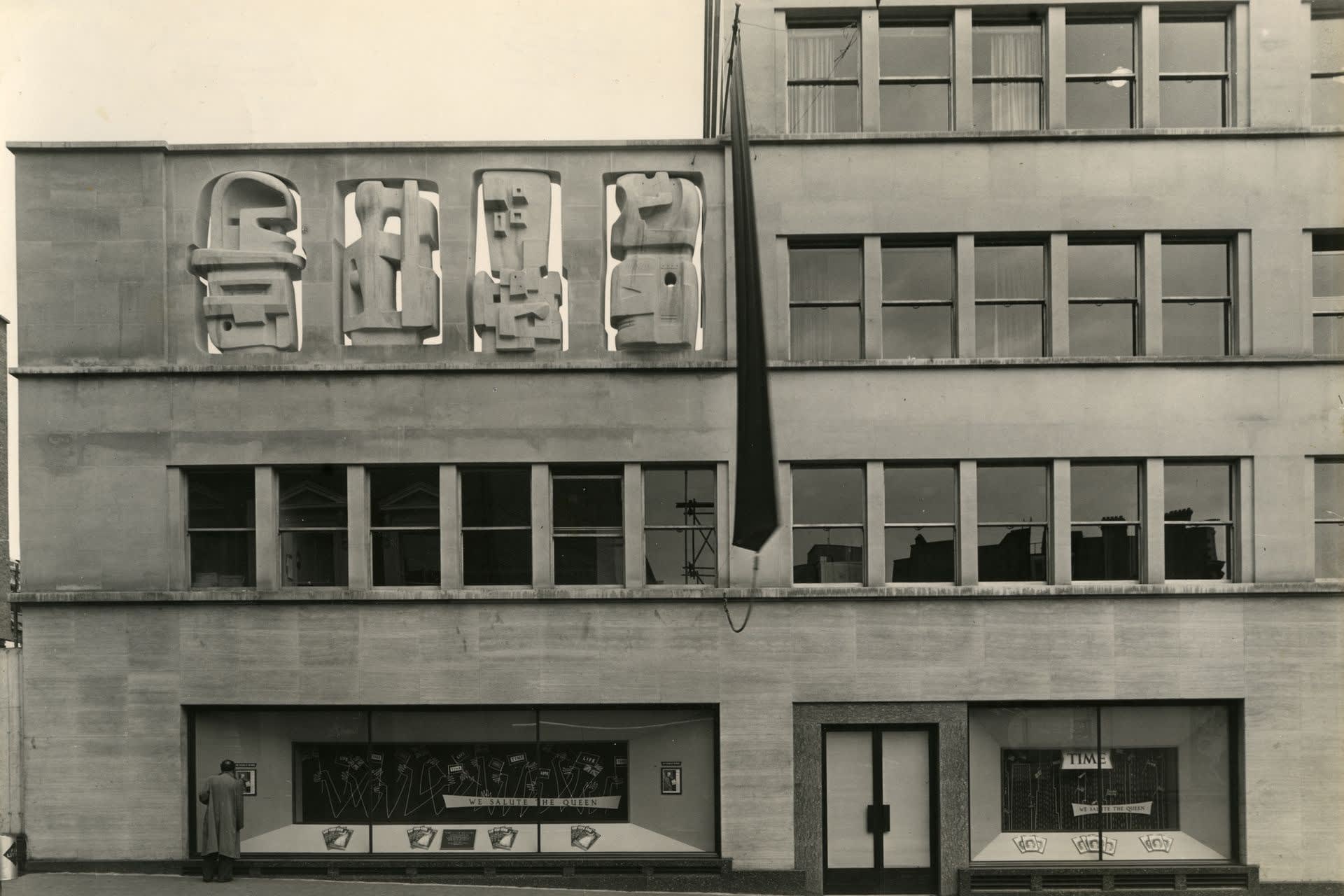 Time/Life Screen, 1952-53. Time/Life Building, London. Image courtesy of the Henry Moore Foundation.
August 11, 2020