ROBERT RAUSCHENBERG, Untitled 75.090 (from the Hoarfrost Series), 1975
The works from the Hoarfrost series by Robert Rauschenberg are a wonderful expression of the fleeting and transitory nature of modern life. Using ephemeral images from everyday life cut from newspapers, advertisements, carrier bags and photographs, they were transferred using solvents onto sheets of diaphanous cloth. By draping one sheet on top of another the images become veiled and obscured, lending them a delicacy and fragility. But this fragility is not just illusory.
When we bought this beautiful example it had been displayed for many years in a freestanding Perspex box. Some others from the Hoarfrosts series have suffered fading and discolouration, but this was still really fresh and strong. I spoke directly to the Rauschenberg Foundation about how the work should be presented and, while they were an absolute delight to deal with, they maintained that it should, as Rauschenberg intended, be pinned to a wall and allowed to blow in the breeze: "One of the x factors that Bob so loved was the subtle movement of the fabric in response to changes in air currents." And so one has that dilemma of the art curator – let them hang free in the elements or keep them safe in a box for future generations? Everyone has to deal with that in their own way.
My personal reaction then as now is that with an artwork at maybe $5,000 or $10,000 one could let it hang unprotected, but with a Rauschenberg at $150,000 I want it safe on the wall in a Perspex box frame. As consolation I like to think that Perspex frames are a lot better and less visible than they were in the 1970s.
ROBERT RAUSCHENBERG (American 1925 - 2008)
Untitled 75.090 (from the Hoarfrost Series), 1975
Solvent transfer and paper bags on fabric
90 x 51 in / 228 x 130 cm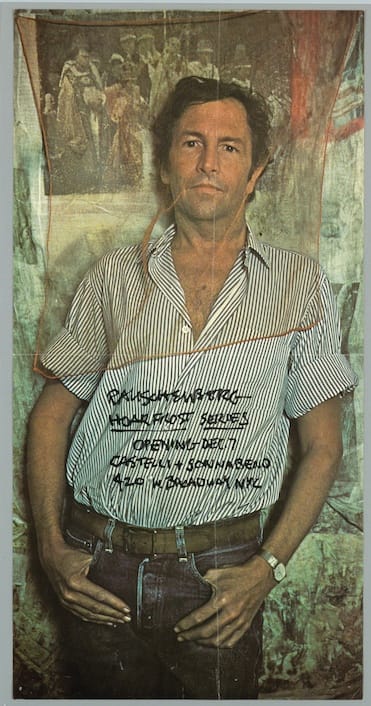 June 1, 2020