MICHAEL GOLDBERG, Untitled, c.1960-62
The work I've selected for this week is a beautiful small painting by the late American artist Michael Goldberg. I had the great privilege to know Michael briefly and visited him in his NYC studio several times where he lived and worked with his wife, sculptor Lynn Umlauf.
Executed around 1960, this gouache on board is a wonderful example of the artist's earlier work. With a swirling and energetic vortex of brush marks, it encompasses all the vigor Goldberg's works are known for. The palette, somber neutrals contrasting with primary colors, is typical of his best work.
This work would likely have been executed in Rothko's last studio which the Goldbergs had taken over. It had massive 25ft high ceilings in the landmark building 222 Bowery, and Rothko's red paint splatter still could be seen, carefully protected by Goldberg, on the wooden floorboards. His love for and knowledge of art and his generosity with sharing that with others were as grand and as impressive as the space in which he worked.
Michael Goldberg was an American abstract expressionist painter and teacher known for his gestural action paintings, abstractions and still-life paintings. A New York native, Goldberg was born in the Bronx in 1924 and began his artistic training when he was age 14, attending first the Art Students League and then studying with Hans Hoffman before interrupting his studies to serve as a paratrooper in World War II. After the war, he returned to his painting studies with Hofmann, and he discussed painting with Willem de Kooning, Lee Krasner, Jackson Pollock, Franz Kline, Mark Rothko and several others of the New York School sometimes at The Eighth Street Club, a regular meeting place of modern artists working in and around Tenth Street in New York and sometimes at the Cedar Bar.
Goldberg began to exhibit his paintings in New York City during the early 1950s, and some of his abstract expressionist peers included artists like Joan Mitchell, Alfred Leslie, Grace Hartigan, Helen Frankenthaler, Knox Martin, Friedel Dzubas, Norman Bluhm and Sam Francis among others. He was also close friends with the poet Frank O'Hara, the two would occasionally collaborate. Goldberg's love of jazz would become a lifelong passion and a key component to his approach to composition in his paintings.
Until his death in 2007 at the age of 83, he was one of the last few remaining survivors of the New York School; he was sometimes referred to as a member of the so-called "second generation" of Abstract Expressionists.
Michael Goldberg's work can be found in a number of significant permanent collections including the Albright-Knox, Art Institute of Chicago, Baltimore Museum of Art, The Brooklyn Museum, Corcoran Gallery of Art, Hirschhorn Museum and Sculpture Garden, Smithsonian American Art Museum, Pennsylvania Academy of Fine Arts, MoMA, Solomon R. Guggenheim Museum, Walker Art Center, Whitney Museum of American Art, and the Yale University Art Gallery and Harvard University Art Museum, among many other national and international public collections.
MICHAEL GOLDBERG (American 1924 - 2007)
Untitled, c. 1960
Gouache on board
18 1/2 x 15 3/4 in
Signed lower left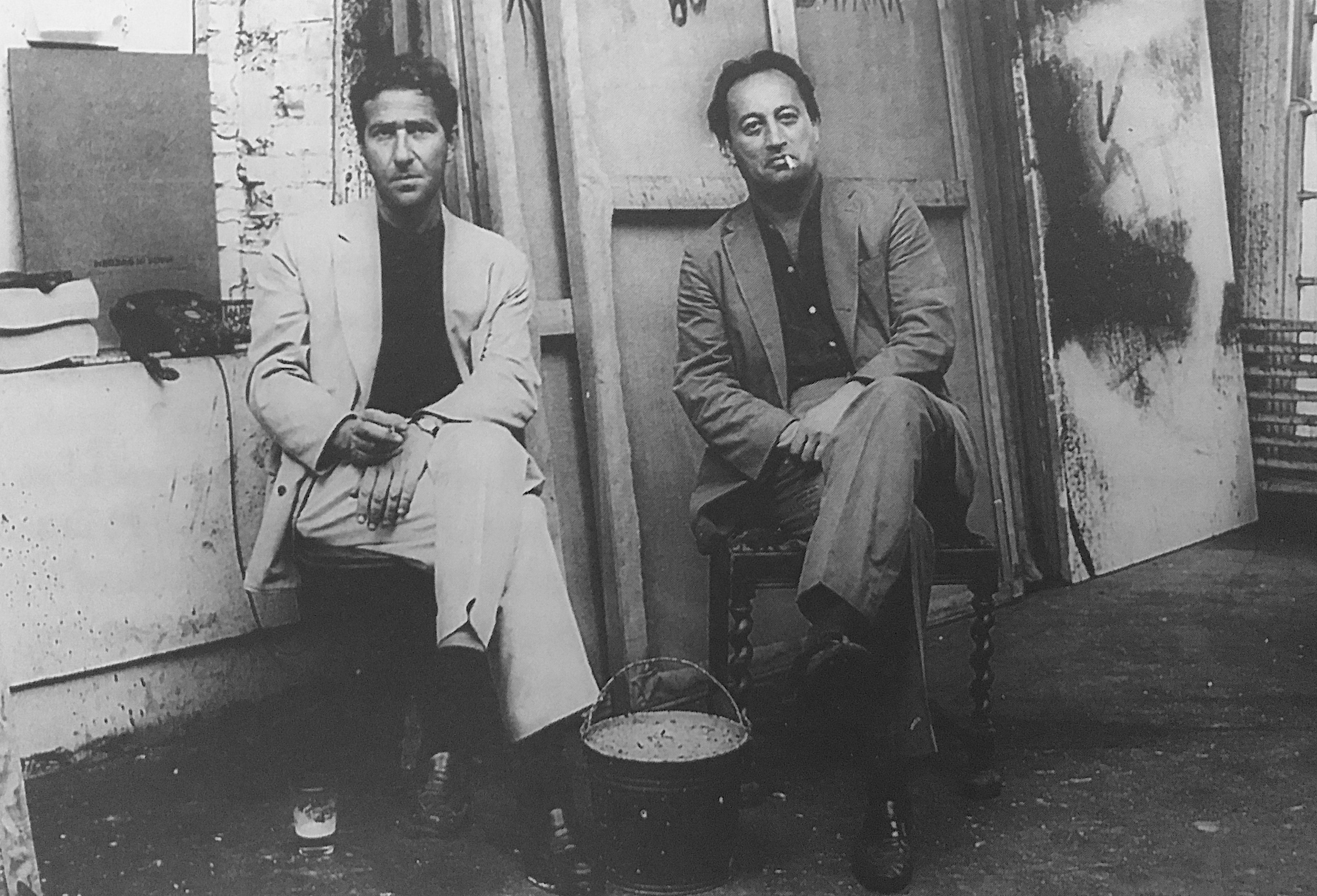 Michael Goldberg (left) with Norman Bluhm, New York, 1960
May 20, 2020