MICHAEL CRAIG-MARTIN, Red Interior with Figure, 1987
In the 1970s Michael Craig-Martin started to build up a collection of line drawings of everyday objects that he owned, in which all but the most essential characteristics had been pared away. He then used these to create a series of wall drawings, made in black tape applied directly onto the gallery wall, and subsequently employed this technique to superimpose multiple drawings one above the other, each object unrelated and drawn to a different scale.
In his book 'On Being an Artist' Craig-Martin noted: "In my wall drawings I wanted to focus as much as possible on the fact of two-dimensional representation, with as little personal inflection involved as possible. This was my way of trying to find an alternative to photography, as sort of neutral, impersonal drawn representationalism. I wanted the viewer to see the picture not me."
Throughout the early 1980s Craig-Martin developed these wall drawings into larger and more complex arrangements, sometimes using red as well as black tape. Between 1984 and 1988 he created a small series of wall sculptures in painted steel that projected a few centimetres from the wall – a chair, a coat hanger, a pair of headphones, enlarged and recreated in abbreviated form through lines of black or coloured steel that floated on the wall. A selection of these was exhibited at Waddington Galleries in 1985 with a note from Craig-Martin in the catalogue affirming that "They are closer to what I want to see than ever before." By 1987 they had given way to more complex compositions, playing with perspective and introducing different elements. Thus 'Red Interior with Figure' is composed of a polished aluminium grid in the foreground supporting a plain painted canvas, with a bifurcated figure behind in black painted steel. These new works formed the basis of a second exhibition at Waddington Galleries in 1988, and then a selection of nine exhibits from the 1985 and 1988 shows were brought back there for a retrospective exhibition in 2002. Richard Shone, who wrote the introduction to that catalogue, had written some years before: "'For Craig-Martin art is a methodical transformation, and the objects he uses, while retaining their reality as signs, become part of a formal and referential language…His work has both conscious restraint and the enlivening presence of humour, curiosity and seductive detail.'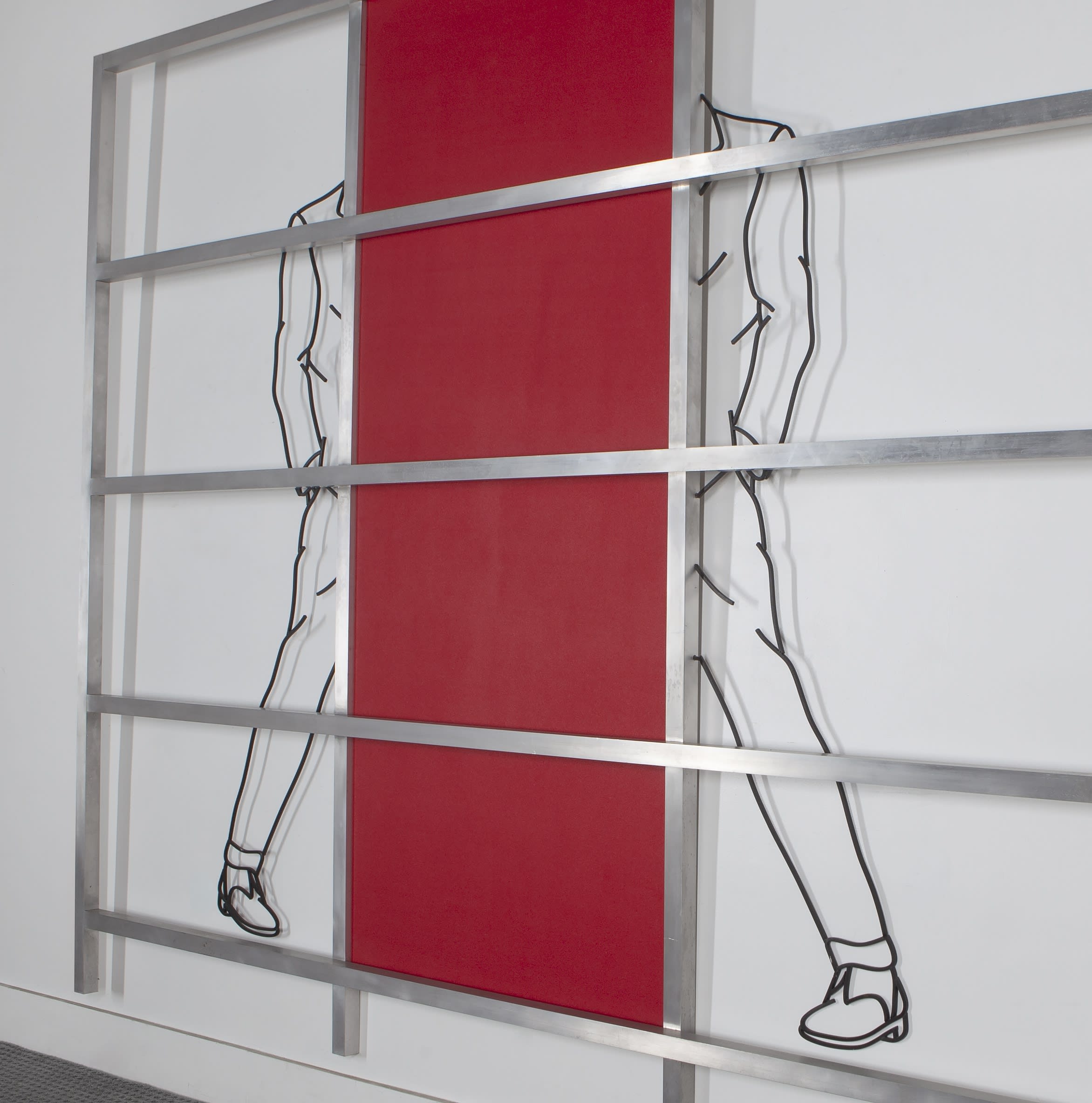 Detail, Red Interior with Figure.
Michael Craig-Martin was born in Dublin in 1941 and spent most of his childhood in Washington DC. He subsequently studied at the Lycée Français in Bogotá, Colombia, and Fordham University in New York, and studied art at the Académie de la Grande Chaumière in Paris and then at Yale University. He has lived and worked in London in since 1966.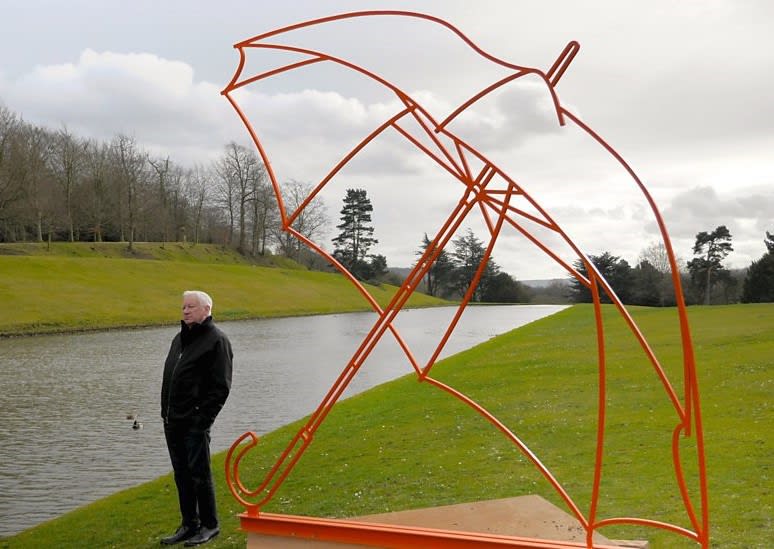 Michael Craig-Martin.
Major retrospectives of his works have been held at the Whitechapel Gallery, London (1989), the Irish Museum of Modern Art, Dublin (2006), and the Serpentine Gallery, London (2015). His works can be seen in the Australian National Gallery, Canberra, the Bibliothèque Nationale and the Centre Georges Pompidou, Paris, the Victoria & Albert Museum and the Tate collection, London, the Museum of Modern Art, New York, and the Harvard University Museums and the Yale Center for British Art.
In 2016 Craig-Martin was knighted in the Queen's Birthday Honours for his services to art.
MICHAEL CRAIG-MARTIN (Irish b. 1941)
Red Interior with Figure, 1987
Aluminium, painted steel and oil on canvas
85 x 102 x 9 in
215.9 x 259.1 x 22.9 cm
June 14, 2021