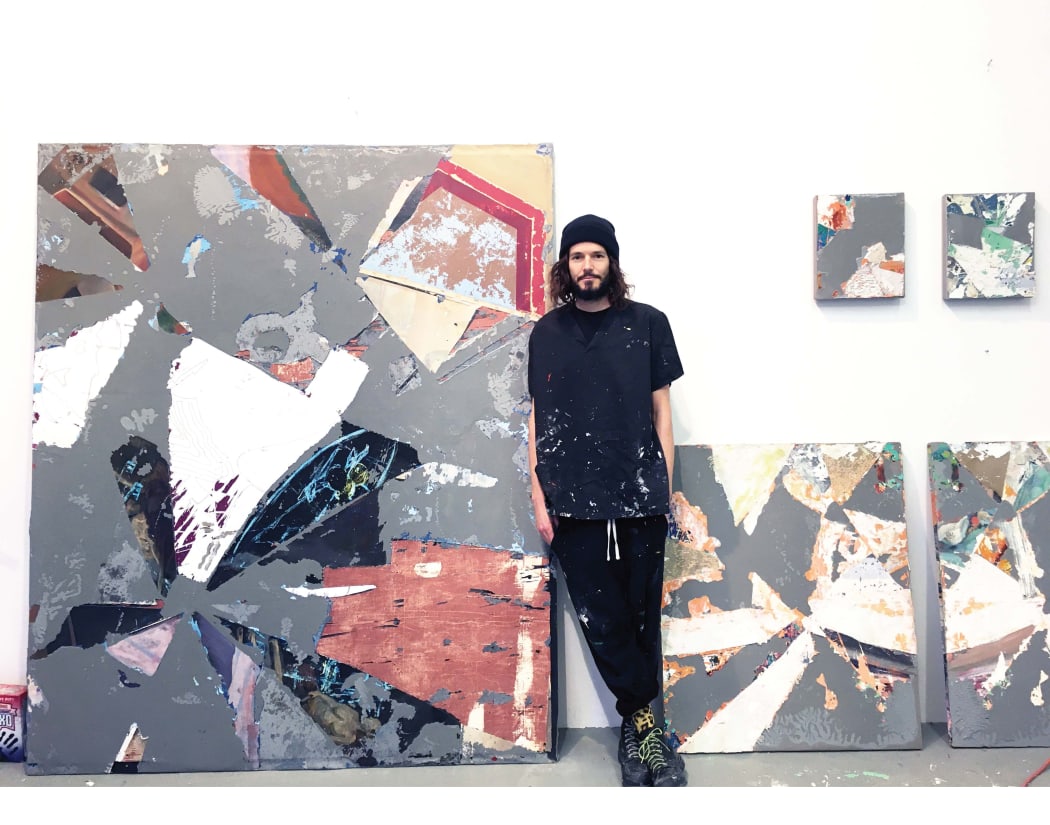 Waterhouse & Dodd is pleased to present our July Artist of the Month, contemporary American painter James Gortner.
Gortner received his B.A. from Hawaii Pacific University and his MFA from Columbia University. His work has been exhibited at The Fisher Landau Center for The Arts (New York), Mana Contemporary (New Jersey), San Bernardino County Museum (California), RW Norton Art Gallery (Louisiana), The LeRoy Neiman Gallery (New York), Lyons Wier Gallery (New York), Fernando Luis Alvarez Gallery (Connecticut), and Dittrich & Schlichtum Gallery (Berlin). He has also been featured in print in New American Paintings (North East Edition), New American Art Collector Magazine, Men's Journal, and the Berliner, among other publications, and his work can be found in numerous collections including the Eileen S. Kaminsky Family Foundation, Jimenez-Colon Collection, and the Wooster Collective as well as the private collection of President Jiang Zemin of China and actress Reese Witherspoon, among others.
James Gortner lives in New York and works from his studio at Mana Contemporary in Jersey City, NJ, where he joins WD for a brief interview on the select works featured with the gallery.
WD: Your identity as an artist is noted to be rooted in a hybrid of spiritual practices, and your work has been described as a combination of your own emotional experiences/dreams and other people's stories and magical myths. What kind of stories do you want to tell through your work and how are they influenced by spirituality?
JG: I think that is an accurate description and also an important question.
As a student of Science, Art and History, as well as a range of Shamanic, Spiritual Practices and World Religions there are many layers of archetypal references in my work, and the story within it is ultimately told by the viewer. The works may tell a story about interconnectedness and transformation- or something else entirely. Like any charged item, each painting speaks differently to each person, and in particular when in front of it, which is why it also needs to be experienced in person. This is the vulnerability, and strength, of my work in a digital era.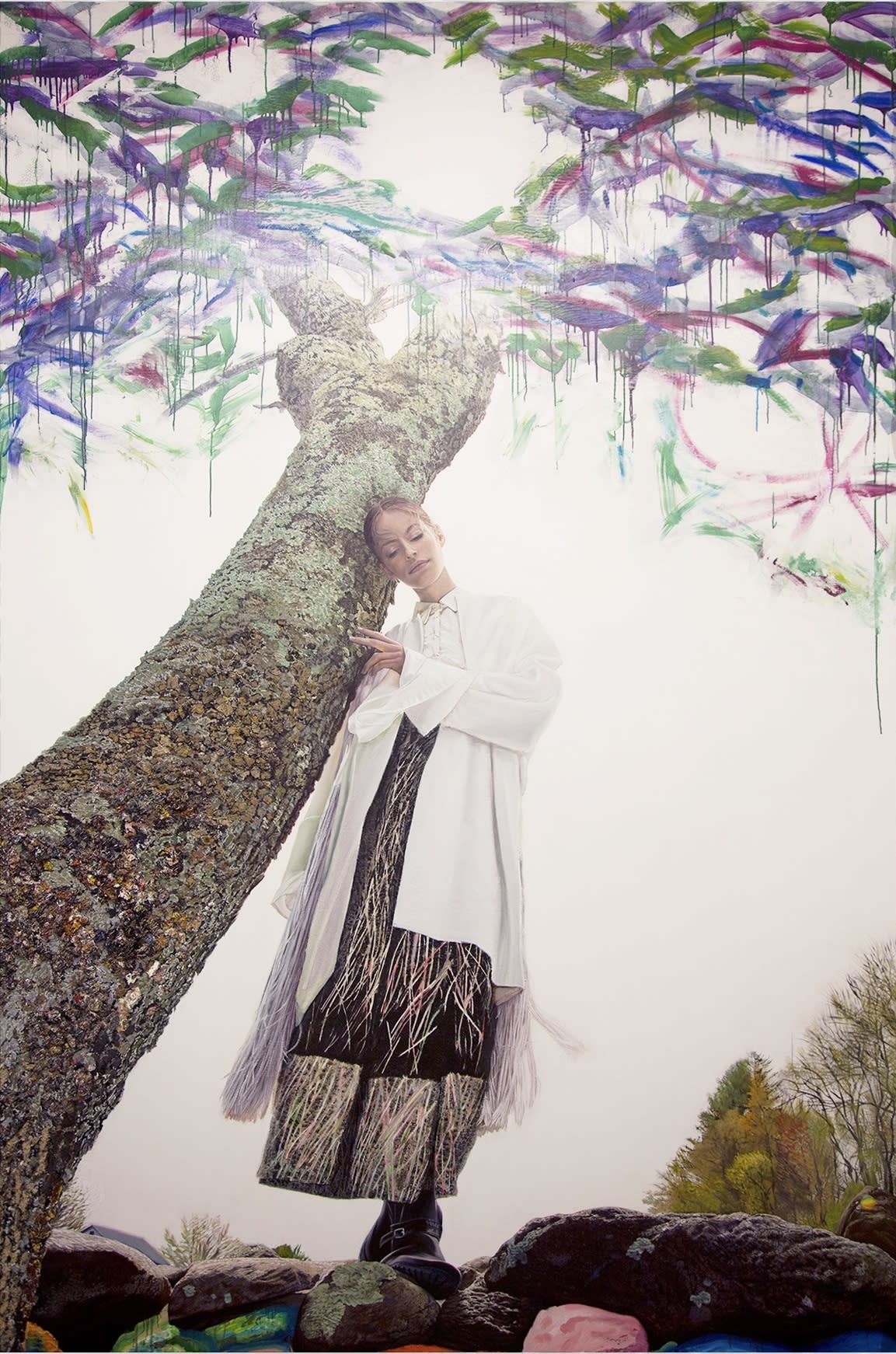 Under The Sun, 2018-2021. Oil, acrylic, and reclaimed paint on panel, 122 x 81 in.
WD: You have a remarkable and broad versatility between abstraction and figuration, why the range of styles? Is there added meaning to incorporating both into your artistic language?
JG: Yes! It's an extraordinary way to paint. I feel like a conductor who has many sections and instruments to direct.
A few of the meanings behind the range are that it's exciting to look at visually, it leaves my identity as an artist flexible, and it feels inclusive of many different art historical mark making practices.
WD: The select works featured at Waterhouse & Dodd are from your Transformer series, which include both original and found elements making them both paintings and sculptures to some extent. Can you tell us a little more about these works and what inspired them?
JG: Transformer paintings are inspired by the very process of material transformation, and inspired by the subjects of the works: humans -and their capacity for transformation. I paint humans turning into angels, faeries, orisha, avatars and gods because these subjects are activated by and created by us collectively. However, they are not done yet, they are like the paintings, still becoming, and open for re-interpretation. As an artist I'm here to create objects that are for you to convene with on the subject of transformation and infinity.
Transformation represents momentum. For me, transformation is the truest way to say creation. Everything that has been created, came from a meta-combination of materials and ideas that came from before. It's all stardust.
Angel Athena, 2017-2020. Oil, neon, and reclaimed paint on panel, artist's frame, 114 1/2 x 62 in.
WD: COVID was in some aspects a particularly challenging time for artists, but also one of profound growth and exploration. Did the past year and a half have any noticeable effect on your concepts and/or process towards making art? And now that the world seems to be opening back up, are there any new directions you want to explore? What's next for you?
JG: Conceptually, while not much has changed in the work itself, I think people are more willing to take time with things in front of them. This suits my type of work well and has opened up for conversation around quality vs quantity, art that makes you think, and the importance of sustainability - which has always been an important part of my process.
As for the future I think it's all about joy, and having fun again. I also started a new body of work that looks totally different, and is all about games. Games and transformation of course!
For more information on James Gortner and his artworks, please contact the New York gallery at (212) 717-9100 or email us at newyork@waterhousedodd.com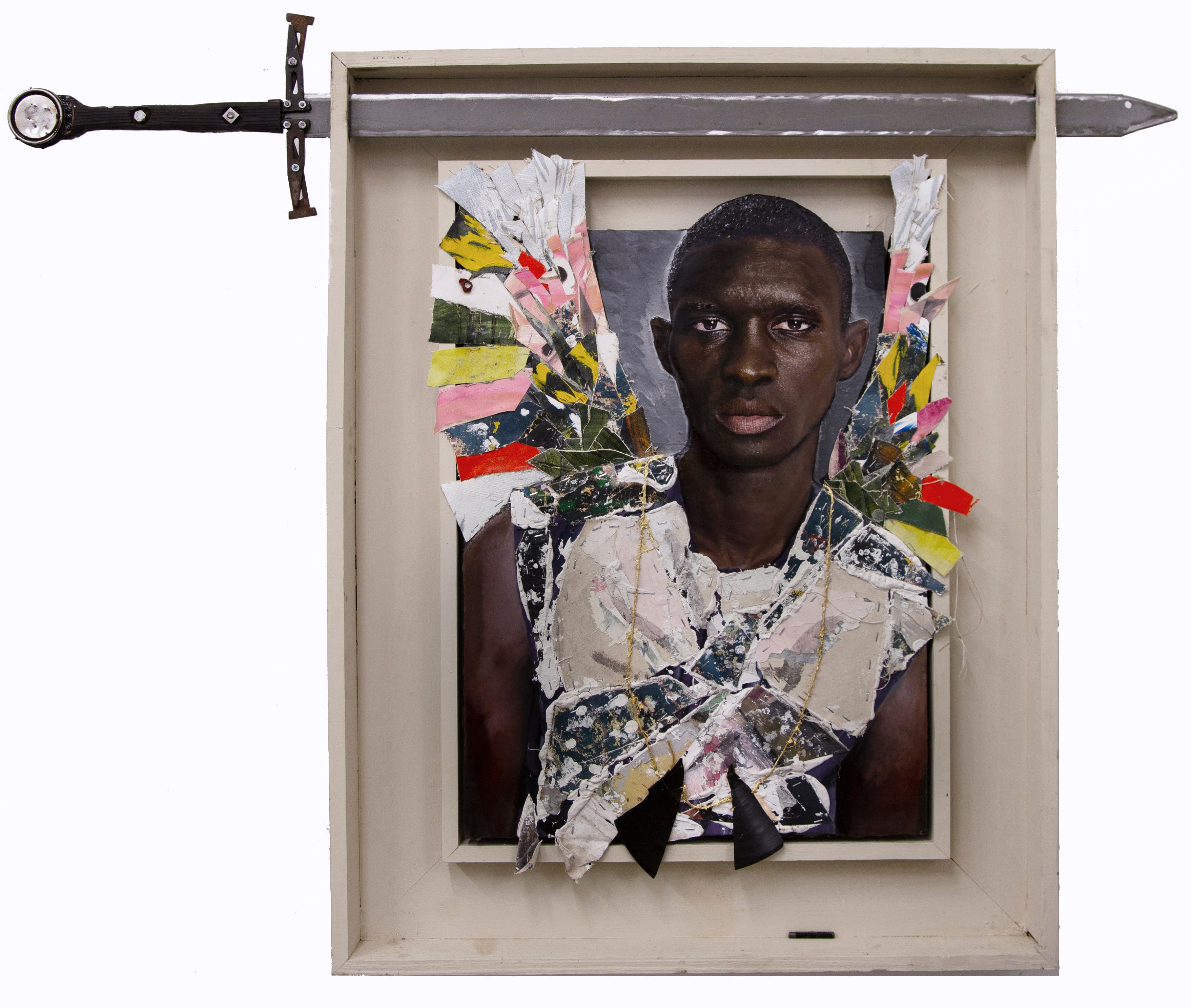 Mitzreal (Angel Of Reparation), 2018-2021. Oil, acrylic, and reclaimed paint on panel, artist's frame, 41 x 35 1/2 in.