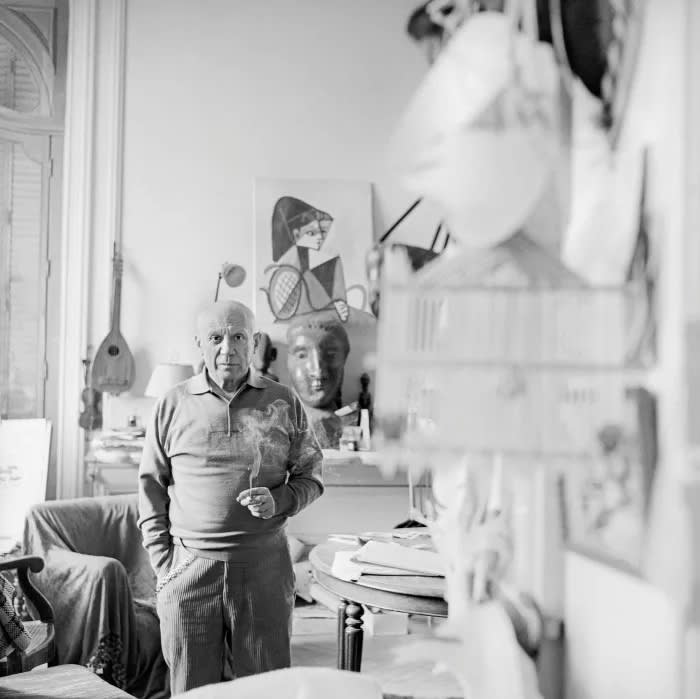 These three works by Pablo Picasso represent just some of the extraordinary diversity of the last 13 years of his life. Homme et Femme Assise is an ink drawing on the card used to pack shirts. Centaure Phallique II is a small sculpture in 23 carat gold, while Paysage avec faune et chèvre is executed in a combination of gouache, watercolor, ink and linocut.
A prolific and tireless innovator of art forms, Pablo Picasso impacted the course of 20th-century art with unparalleled magnitude. His final works were a mixture of styles and mediums, and were often daring and highly expressive. Once denigrated, his late works are now recognized for their genius.
Homme et Femme Assise is a twist on one of his most frequent subjects in his later years, the musketeer. In this delightful piece, the iconic figure has a female counterpart represented by Jacqueline – the artist's last great love, muse and wife. The drawing coveys a different emotion than most of Picasso's late works that are heavily charged with erotic context, at times interpreted as raw and aggressive. This drawing, however, portrays a much gentler atmosphere of an interaction between the musketeer and the woman, which prompts the viewer to notice a remarkable engagement between the two characters with locked gazes. In addition, the shape of the card used by the artist for this drawing suggests that it most likely came from a newly bought shirt, which adds to a feeling of romantic interaction rather than anxious promiscuity.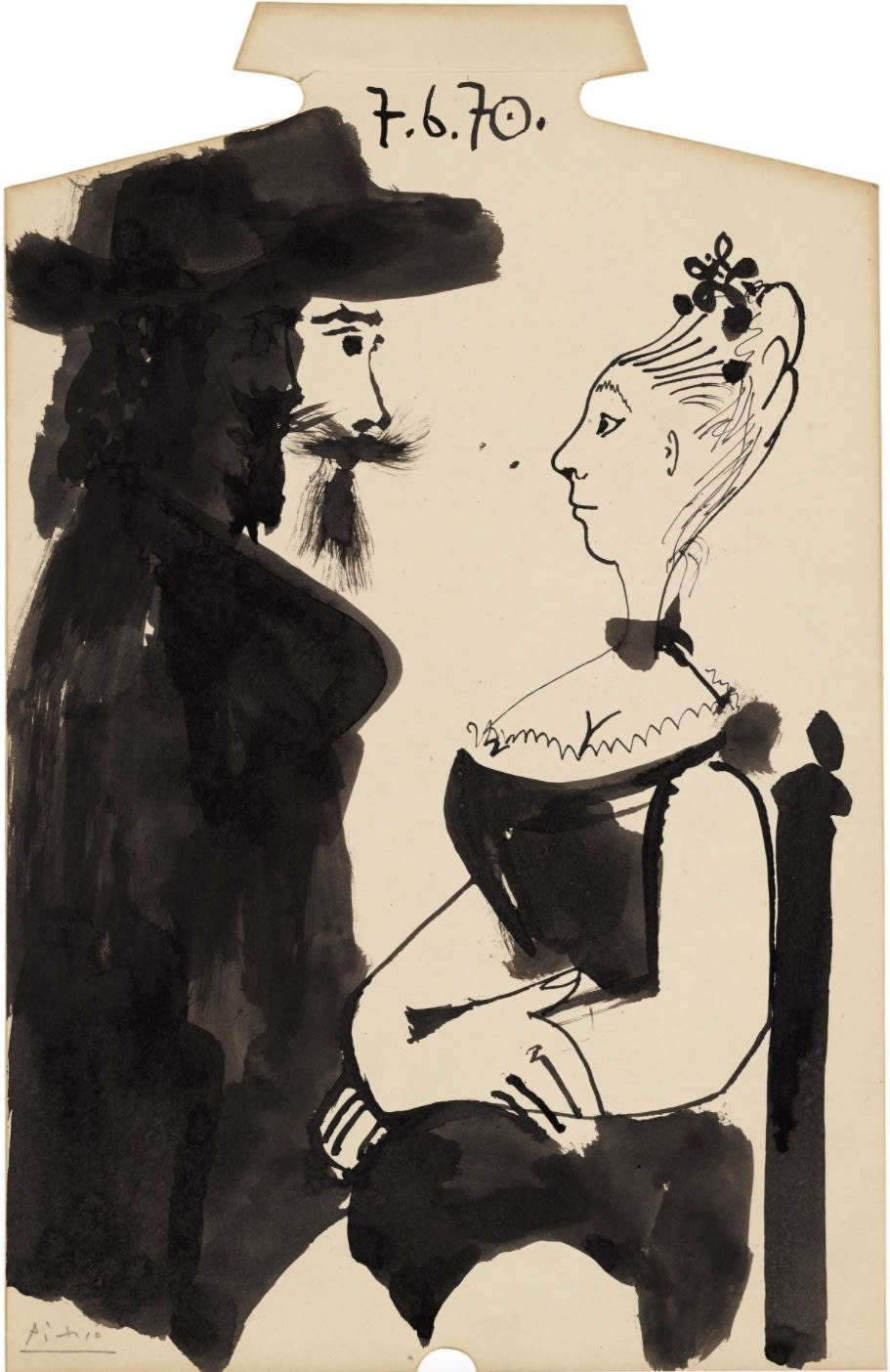 Homme et femme assise, 1970
Signed lower left, dated upper center
India ink and pen on card
14 x 9 in / 36 x 23 cm
Centaure Phallique II, a small, exquisite and somewhat playful gold sculpture, is an example of Picasso's almost endless interest in new forms and ideas. In the early summer of 1956, Picasso was with the English art historian and collector Douglas Cooper *(see note below). The two discussed gold and silver platters and Picasso declared how wonderful his plates would look in silver. As a result, Cooper introduced Picasso to the silver and goldsmith Francois Hugo. The meeting changed Hugo's life as for the next few years he only worked for Picasso.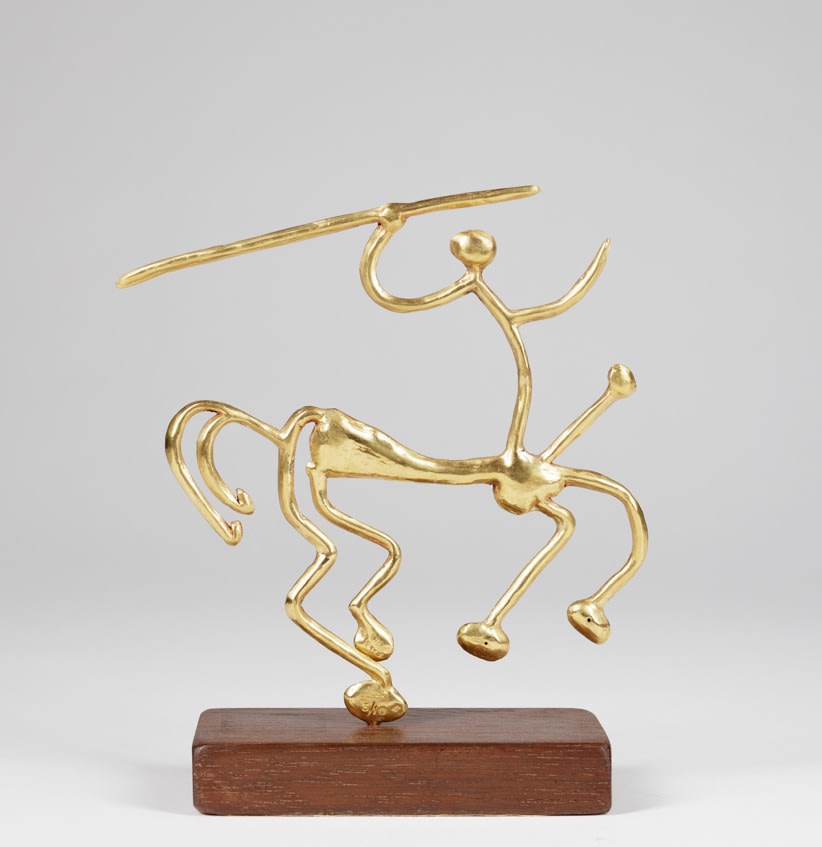 Centaure Phallique II, Conceived in 1960 and cast in 1973. Edition of 10.
Signed, numbered, with the goldsmith's mark of François and Pierre Hugo
23 carat gold
Height 5 1/2 in (14 cm)
This beautiful work is from an edition of 10 and mounted on a wooden base. It was conceived in 1960 and created in 1973, the year of Picasso's death. The first version was an edition of 2 and is less sophisticated and delicate, with the Centaur carrying a large arrow.
*Note by Ray Waterhouse: I was lucky enough to visit Cooper's 13th century chateau near Uzes, and have lunch in the large colonnade decorated with 5 large Picasso frescoes. I counted 49 works by Picasso in the collection).
Paysage avec faune et chèvre, executed in 1963, has a combination of media: gouache, watercolor, brush and ink and wash over linocut. The linocut areas feature the fawn with a horn in the green areas top left, the goat is in the brown top right, and the three green and brown areas below also feature small animals.
Paysage avec faune et chèvre, 1963
Signed lower left, dated '31.12.63' on verso
Accompanied by a certificate of authenticity from Claude Picasso.
Gouache, watercolor, brush and ink and wash over linocut on paper
29 1/2 x 24 in / 75 x 62 cm
Linocuts form a relatively small part of Picasso's oeuvre as a printmaker, however some of his most outstanding compositions were produced using this method in a short burst of activity between 1958 and 1963. It was a combination of geographic necessity - as he was working in the South of France the printmakers in Paris were too far away to produce quick results - and artistic curiosity which led the artist, at the age of 78, to turn away from etching and lithography and take up the linocut technique. Picasso actually came up with a innovative solution to a standard linocut problem - rather than use separate blocks for each color, he printed the whole image from just one block in the so-called 'reduction' method. The block was printed in the lightest color, then cut further and printed successively from the lighter to the darker colors. It required a tremendous power of imagination to foresee how each change in the block would impact on the composition as a whole. His masterpiece of this period, Buste de Femme aux Chapeau, is one of his greatest portraits of Jacqueline and a prime example of this technical tour de force – a creative liberation which resulted in some of the most luminous and joyful images in Picasso's entire oeuvre.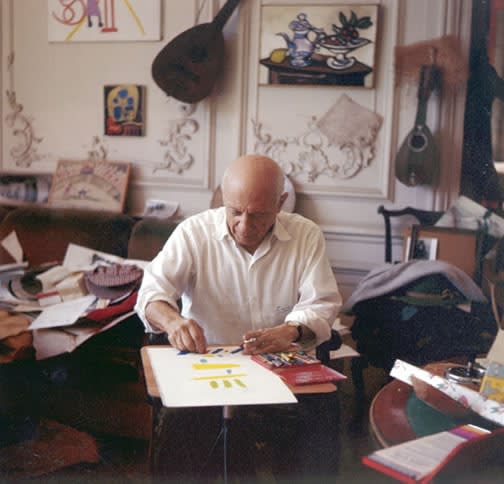 Picasso working in his studio.