Waterhouse & Dodd is pleased to feature Miami-based Argentinean sculptor, Carolina Sardi, as our February Artist of the Month. Although her work is primarily made from rigid materials such as steel and aluminum, Sardi is known for her organic sensibilities that reflect her interest in basic interactions of life. Her wall compositions, installations and free standing works all utilize the space in which they occupy as a visual support, an important element in the final composition of her works. Her organic, biomorphic shapes and geometric figures evoke representations of nature, the cosmos and other natural phenomena.
Carolina Sardi's work has been featured in numerous solo exhibitions and art fairs around the country, including the Bass Museum of Art in Miami, the Museum of the Americas in Washington DC and the Museum of Art in Fort Lauderdale, Florida. Her work can be found in private and public collections world-wide, including Board of Governors of the Federal Reserve and Art Museum of the Americas in Washington DC, Museum of Art of Fort Lauderdale, Miami Dade Art in Public Places, The Related Group of Florida, and the Cleveland Clinic Collection.
Director of Modern & Contemporary Art in New York, Sandra Safta Waterhouse, shares a few questions with the artist on her work and inspiration.
SSW: What motivated you to start making art, was there a particular event or experience that inspired you?
CS: I've been making art since I was a child. My first teacher at elementary school told my mother to take me to art school because I was always drawing in class… So at 10 years old I begun art school. When I had to decide and choose my college education, art was the only option for me.
I couldn't imagine myself doing anything else. My parents were very supportive and I decided to study sculpture because it was the media that was more difficult for me.
I did my first metal sculpture when I was 16 and my father bought me a welding machine so I could learn how to weld. I always say that art is a career that you don't choose, is a career that chooses you. It's a blessing and a curse. You will not be happy if you don't do your art.
SSW: Walk us through your process from the moment an idea strikes to the finalization of a piece?
CS: I usually work on series, so before a series starts I do my research; I do a lot of drawings and writing. My inspiration comes from my everyday experiences and from the observation of the world around me.
Once the concepts and ideas are clear I get to work. I do more accurate drawings and I start to work with the material.
Working with metal is a complex and elaborate procedure that involves physical work and is a labor-intensive process. But this process is an important part of my artistic practice. It serves me as a meditative space where I can reflect on the work I am doing and I can get in contact with the material itself. Working with metal involves cutting, welding and grinding. Is an industrial material that allows you to do almost anything if you know how to work with it.
I love the fact that is an industrial material that I can transform into a more polished medium and create objects, sculptures and installations that are organic and that can be viewed as if they were made from a different material. That creates for me a mystery that is important in art.
I usually work in few pieces at the same time. I create my wall sculptures directly into the walls of my studio. I use geometry and math to get the right proportions. I play with the different components and I try different options until I decided I have achieved the desired composition.
I then let it sit for a while to make sure that the composition is right. Then the finishing part begins. I can paint the metal, treat it with metallic surfaces or leave it with the natural steel color. A piece is finished when every element of the composition feels as it is in the right place, when nothing else should be done and the same works tells you to stop.
SSW: Can you talk about some of the most significant influences on your work over the years?
CS: My influences are everyday life, my personal experiences, looking for balance between opposites, looking for answers about why we are here and how and why we interact with each other. Artists that have been an influence in my work are Lucio Fontana, Marin Puryear and Louise Bourgeois.
SSW: Tell us about your current body of work, what you're working on in the studio now?
CS: I've been working in a series of small self-contained sculptural objects. They are somehow raw and primitive and I plan to create with them a large installation. They will then relate to each other and, at the same time, they will keep their individual strength. These pieces are a way to get back to the origins of my work, with pieces that have multiple significances and where I can express the immediacy of our current reality.
SSW: Finally, how are you coping with the current COVID-19 crisis? Has this situation sparked any new or different creative pathways in your work or inspired you to take up any other hobbies?
CS: I started the new series of pieces I talked about in the previous question during lock down in my studio. I decided to quarantine at my studio because I felt that I would need my work to cope with the situation. And to tell you the truth I enjoyed it for a while. I cooked a little and I had time to read, draw and ride my bicycle. Then it became a different thing because we've been dragging it way too long. I miss my family and I miss traveling but I am thankful about the fact that they are all well.
To learn more about Carolina Sardi and see the gallery's selection of works, please visit her Artist page HERE. You may also email sandra@waterhousedodd.com, or call +1 (212) 717-9100.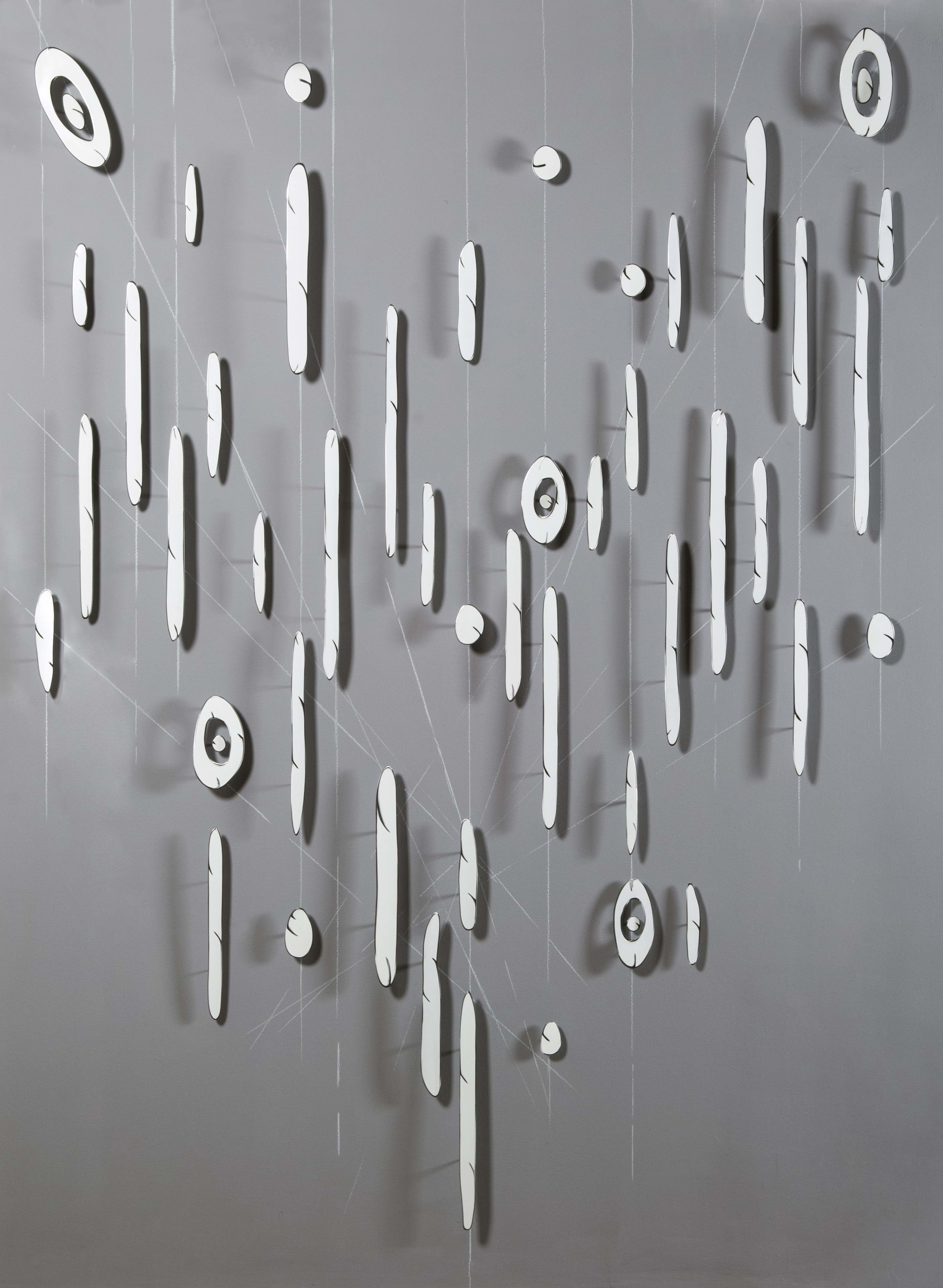 Falling White, 2012. Plated Steel over painted wall, 99 x 70 inches.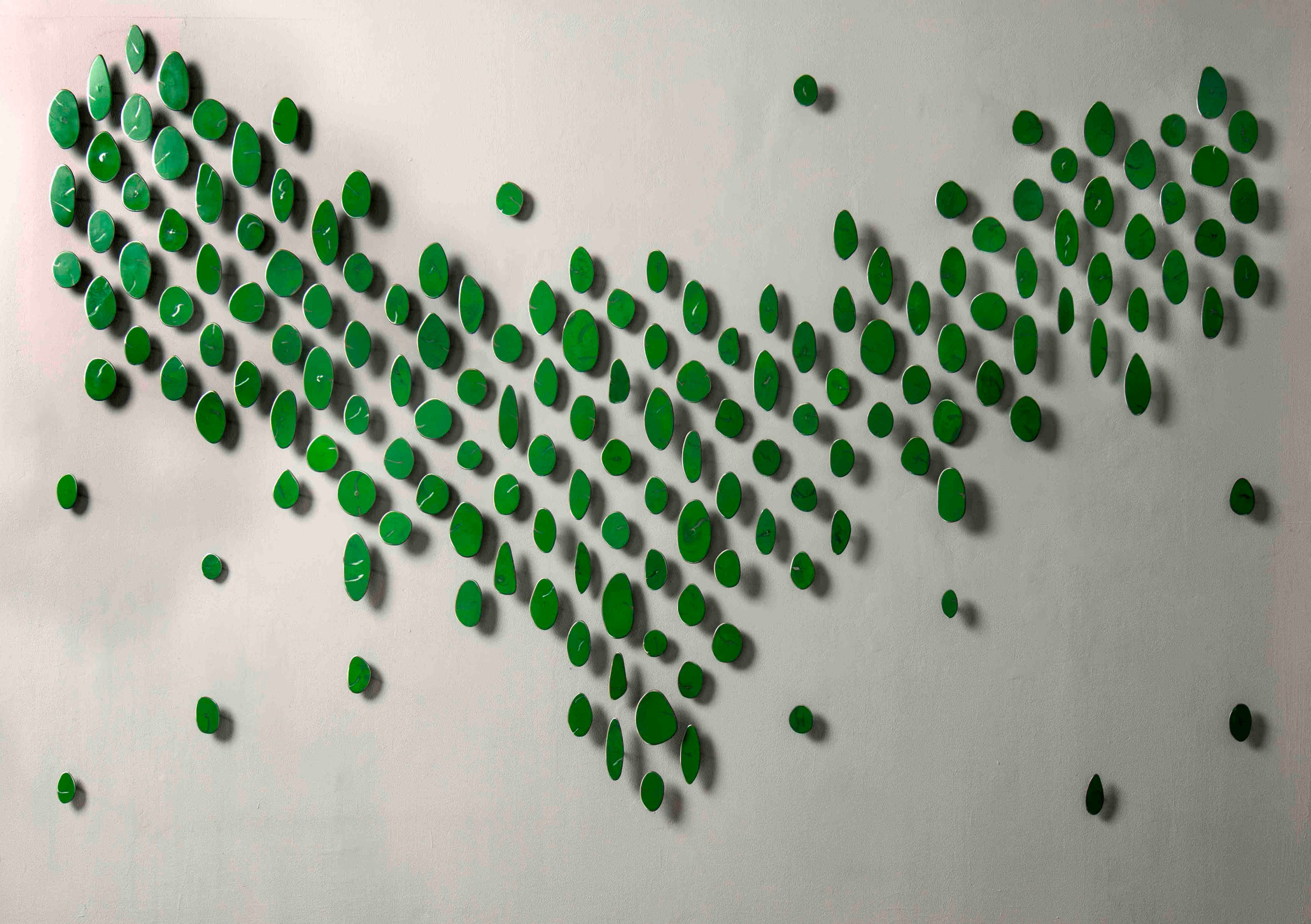 Forest Green, 2013. Painted Steel, 75 x 116 x 2 inches.
Starry Night, 2008. Painted Steel over painted wall, 96 x 96 inches.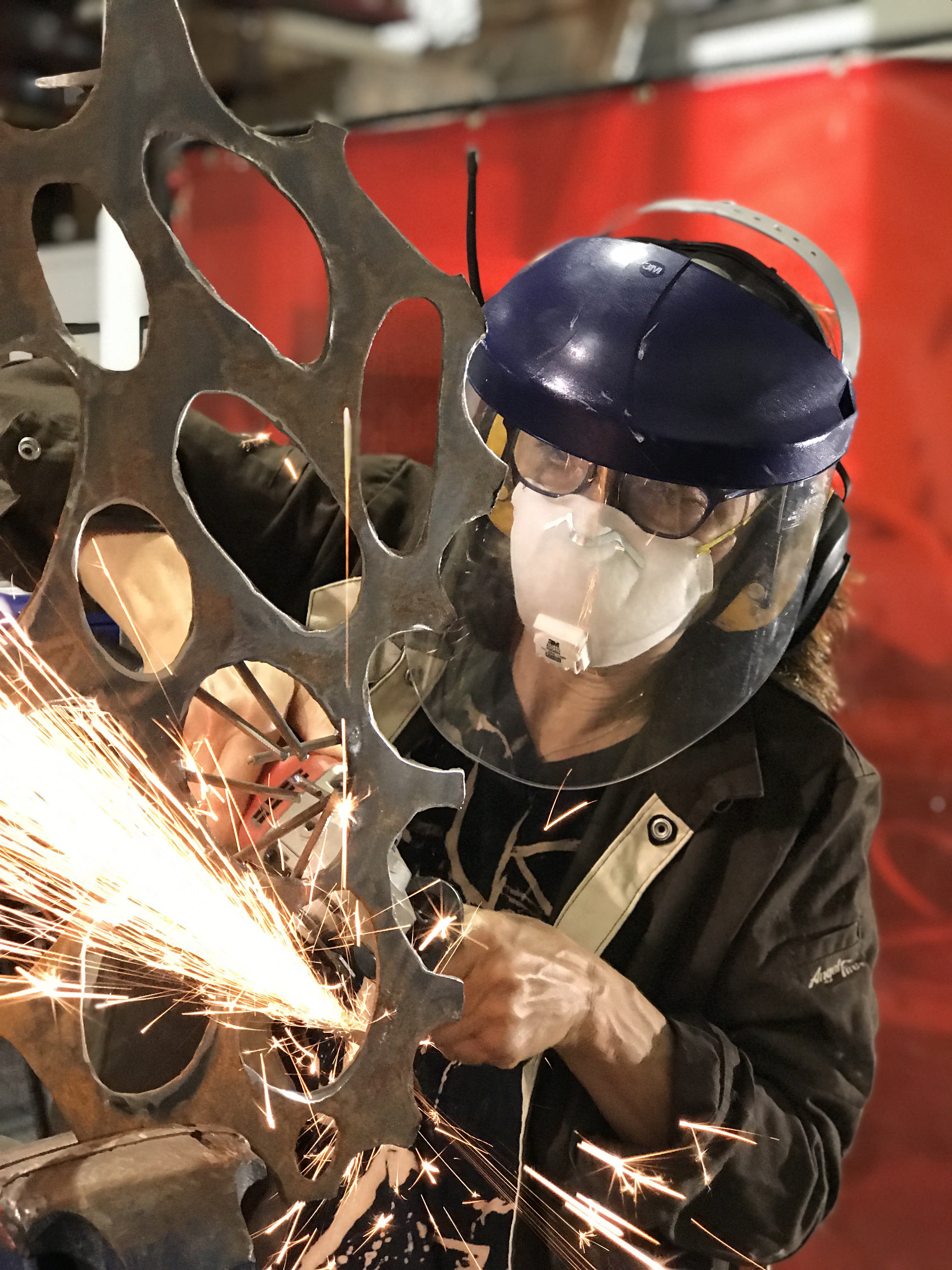 Carolina Sardi in her Miami studio.