Our July Artist of the Month is the internationally acclaimed French photographer Jean-François Rauzier, who is Waterhouse & Dodd's best-selling contemporary artist. We are pleased to present a new short video in which our Director of Modern & Contemporary Art in New York, Sandra Safta Waterhouse, sits down with the artist to discuss his methods, inspirations, and how he's faring during the pandemic.
A transcript of the interview is below, but for the full audio interview please click HERE.

Rauzier is currently extremely active, with two exhibitions opening last week in France: one in Annecy, Paysages, July 4 - September 27, and another one at the historic Chateau de Vascoeuil, through October 25, 2020. As he explains in the video, he is nearing completion of his magnum opus 'La Balade de Paris' which he started creating in 2010. He is hoping to display this truly massive artwork at the Paris Olympics in 2024.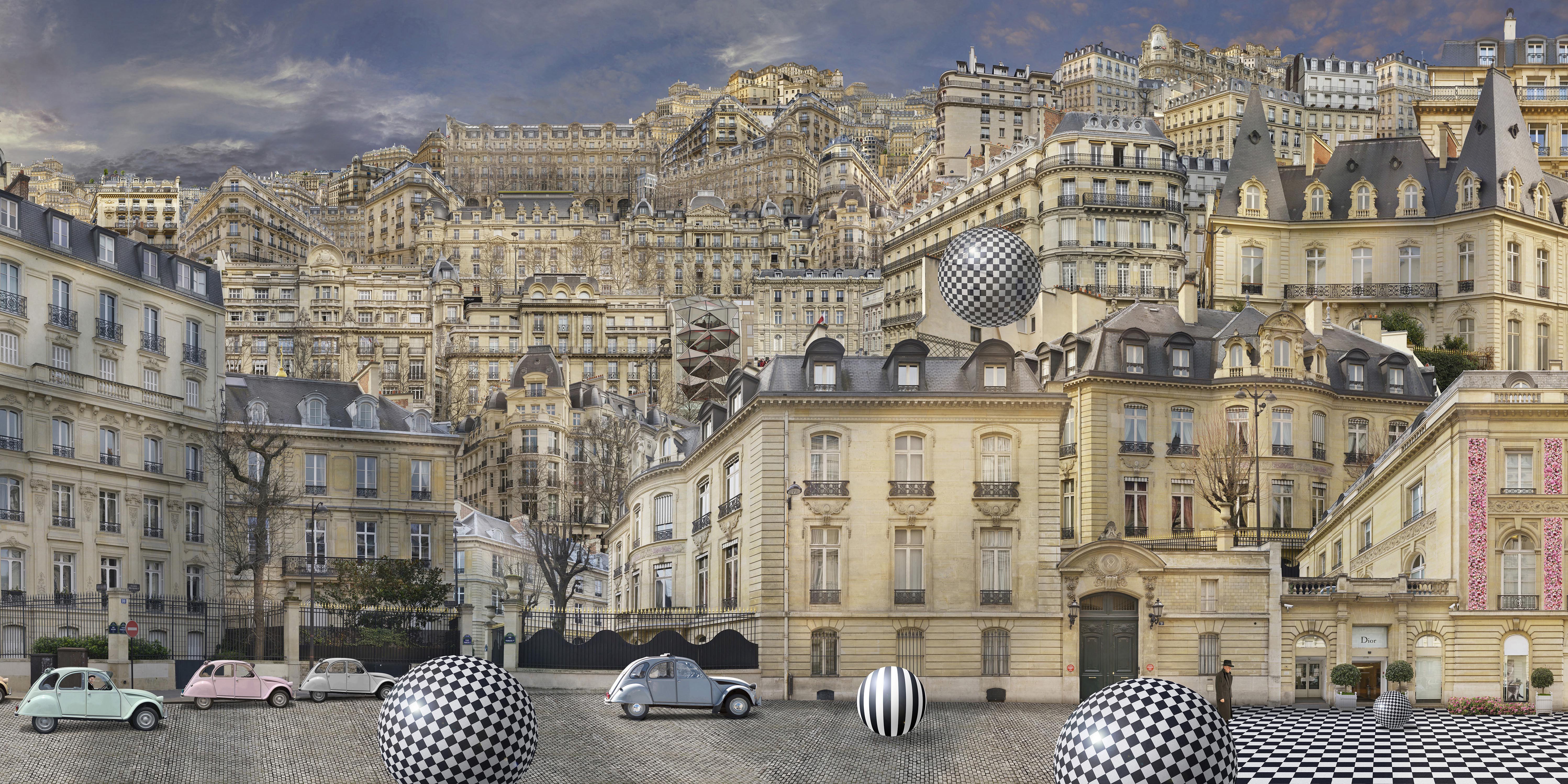 Detail from Rauzier's epic project Balade de Paris, 2020.
Jean-François has also recently completed a wonderful work Beaux Arts II, which shows many of his favorite paintings hanging or stacked in fantasy museum with references in the ceiling to a the workings of a clock.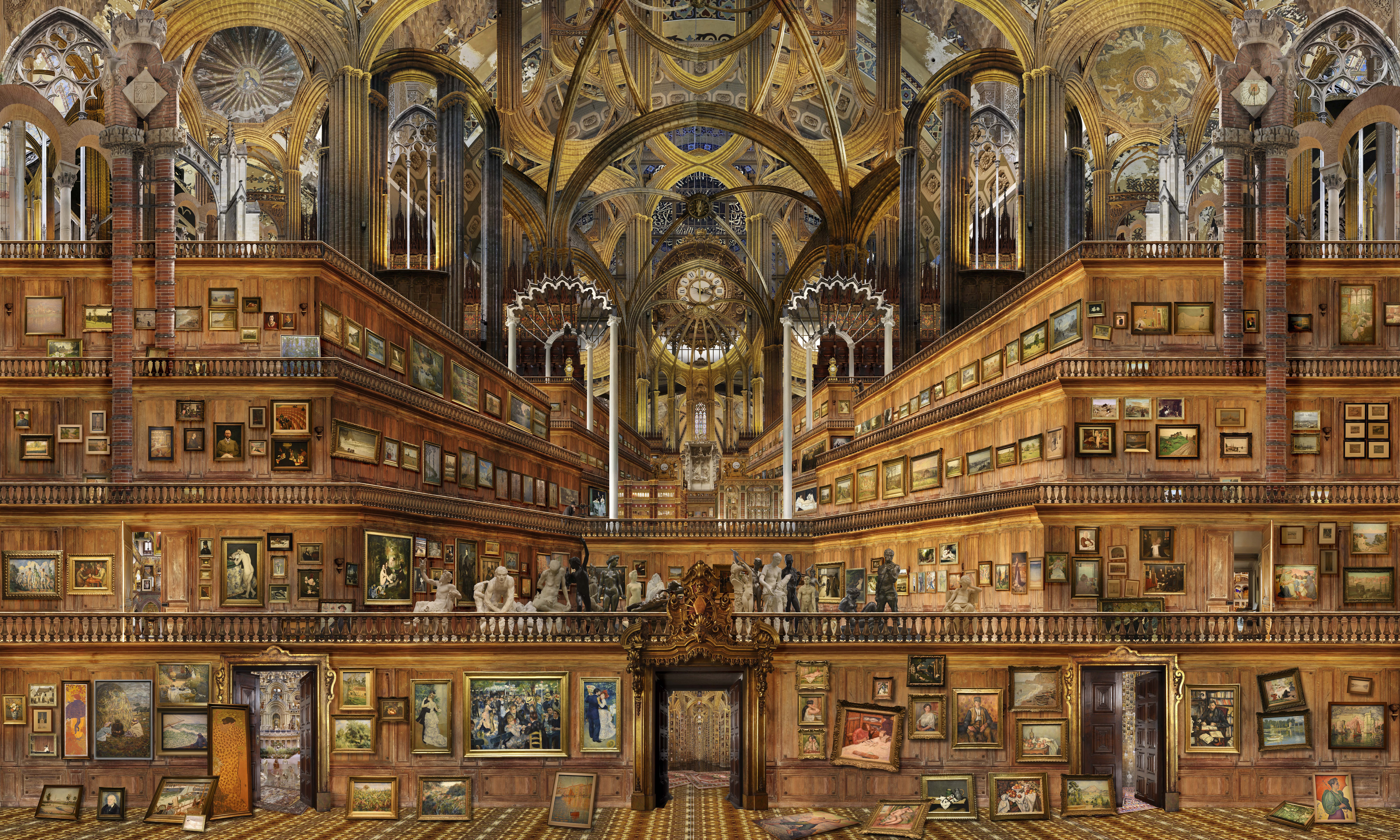 Beaux Arts II, 2020
C-print mounted on aluminum
58 x 98 in / 150 x 250 cm
Edition of 8 plus 2 artist's proofs
Please contact Sandra Safta Waterhouse with any enquiries: sandra@waterhousedodd.com or +1 917 821 3131. For additional information on the artist's work, please visit his Artist page HERE.
SSW: What motivated you to start making art, was there an event or experience that inspired you down this path?
JFR: Like many children I loved to draw, paint, carve wood, but I had an uncle who was photographer and he introduced me to this practice. We began with black and white film and paper that we developed in a dark room. The first time I saw the images emerge - a landscape, a portrait - very slowly appearing on the white paper in the developing tank, it was a mystical experience for me. After that, I have always considered photography as a magical medium. And, in becoming a professional photographer myself, I continual wonder how to create images that capture the viewer's attention over and over again.
SSW: Walk us through your process from the moment an idea strikes to the completion of an image?
JFR: Most of the time, ideas will strike after visiting a particular place in a city and absorbing what this place and the local people are made of. I collect everything I can, walking and shooting many thousands of images of buildings, people, vegetations, animals – any and every small detail I can see in the city. Once the place is stuck in my mind, I go and shoot images from inside and outside, from every angle. Then, on my computer, I cut out, clean each and every image to have material to start building my compositions from. During this long process, my imagination is flying and my inspiration pushes me with all the images I see and all the shares and I begin to build my composition like a big construction game. Sometimes, for example with my series The Myth of Babel, my imagery and compositions are based on existing classical paintings that I remake with contemporary reference material.
SSW: Can you talk about some of the most significant influences on your work over the years?
JFR: There have been many influences on my work. The first is certainly classical painting - I visited a lot of museums when I was young and especially loved Renaissance Dutch, Italian and French painting as well as classic American artists Edward Hopper and M.C. Escher. Of course there have been significant photographers whose work has also influenced me like Irvin Penn, Anselm Adams, Jean Loup Sieff and Sarah Moon. And, not surprisingly film too has been an inspiration. Although my work is photography, I think I compose my pictures in a cinematic manner, much like a movie. Certain film-makers like James Cameron, David Lynch, Tarkovsky and Kurosawa for example had a great influence as well as Erick Demazières, Bilal and Schuitten.
SSW: Why these characters and images, where does the interest in utilizing them for your work come from?
JFR: One character you see in my work over and over again is the man in black. That figure is actually me, an anonymous human figure within the works who signifies how little we are in the world. I'm the stalker of my own world. This figure is often placed at the point in each image where your eyes usually fall first, to enter into the image. I also use a lot of animals too in my compositions because as a little French boy I learned the Fables de Lafontaine and so have the habit to tell stories with animals. And I also put friends of mine into the photos, they are important in my world.
SSW: Tell us a little bit about your current body of work, what you're working on in the studio now.
JFR: Actually, I 'm totally invested in a unique project "La Balade de Paris", a huge work that I began 10 years ago. For this project, I have been photographing all of Paris, shooting millions of images of streets, architecture, monuments. I am taking those images and rebuilding an ideal city, the image is actually 20 inches high by 20 miles long. It's not yet finished, it is an eternal work in progress.
SSW: Finally, how are you coping with the current COVID-19 crisis? Has this situation sparked any new or different creative pathways in your work or inspired you to take up any other hobbies?
JFR: The confinement has been an intense moment of creativity for me as I worked on the Balade de Paris – not in just in photography but with reading a lot of books about the history of Paris, then writing a lot for leporello books with the Balade. I have also made a 12-hour long video of the Balade with voices of all my friends, especially those with foreign accents, telling the stories of Paris in 1760. And of course, I am also thinking of all the thousands of new cities to explore and photograph, and how to reinvent them.
All of Rauzier's images are produced in limited editions of 8 plus 2 Artist Proofs, and are C-Type prints mounted on aluminum with plexi glass, the best possible conservation practice currently available.
Waterhouse & Dodd is pleased to be Rauzier's exclusive agent in the USA, UK and Middle East and has shown his work in exhibitions and art fairs in New York, Palm Beach, Miami, Los Angeles, Abu Dhabi, Maastricht and London.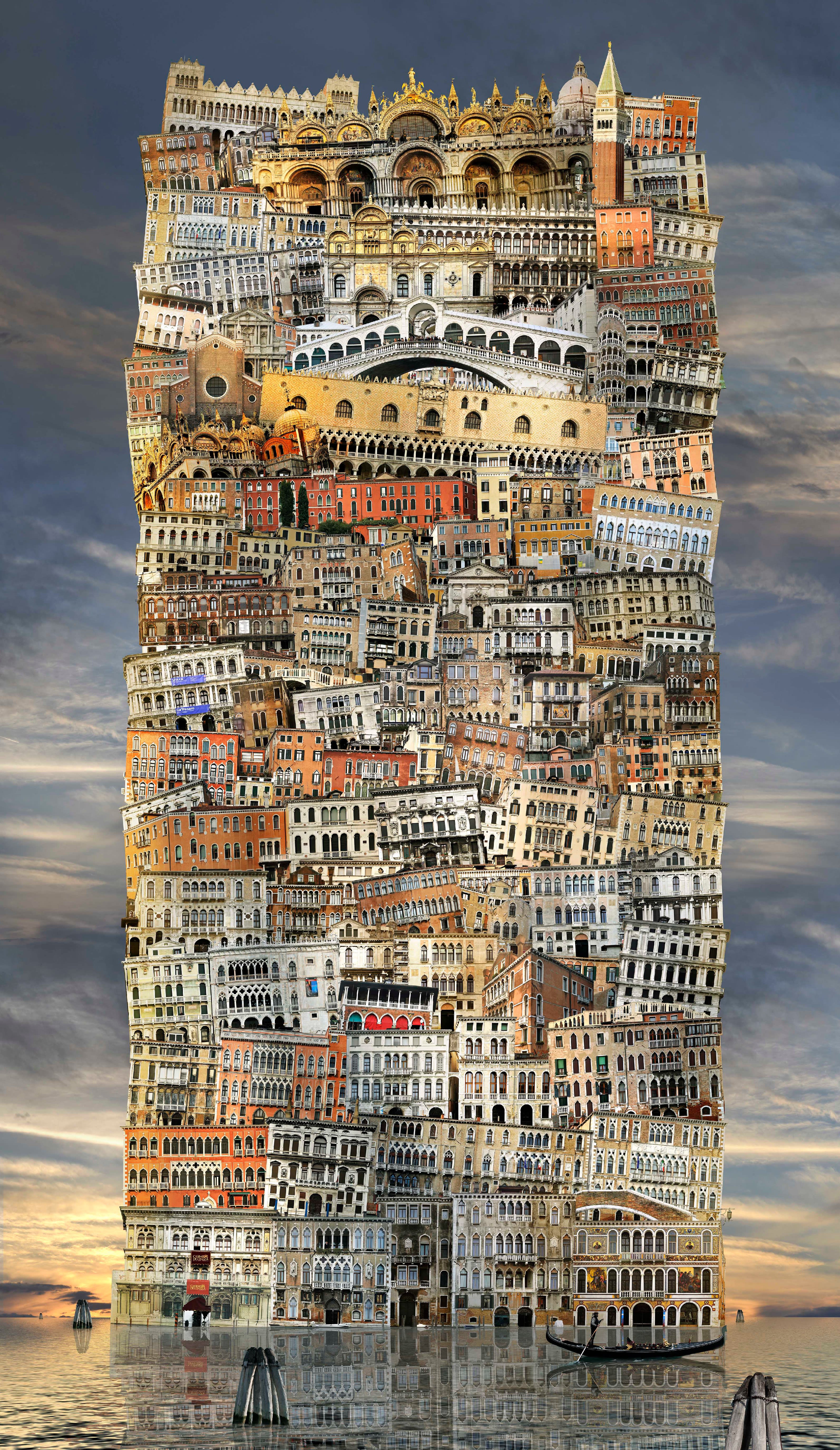 Venise Babel 42, 2017
C-Print mounted on aluminum and plexi
78 x 44.5 in
Edition of 8 + 2 AP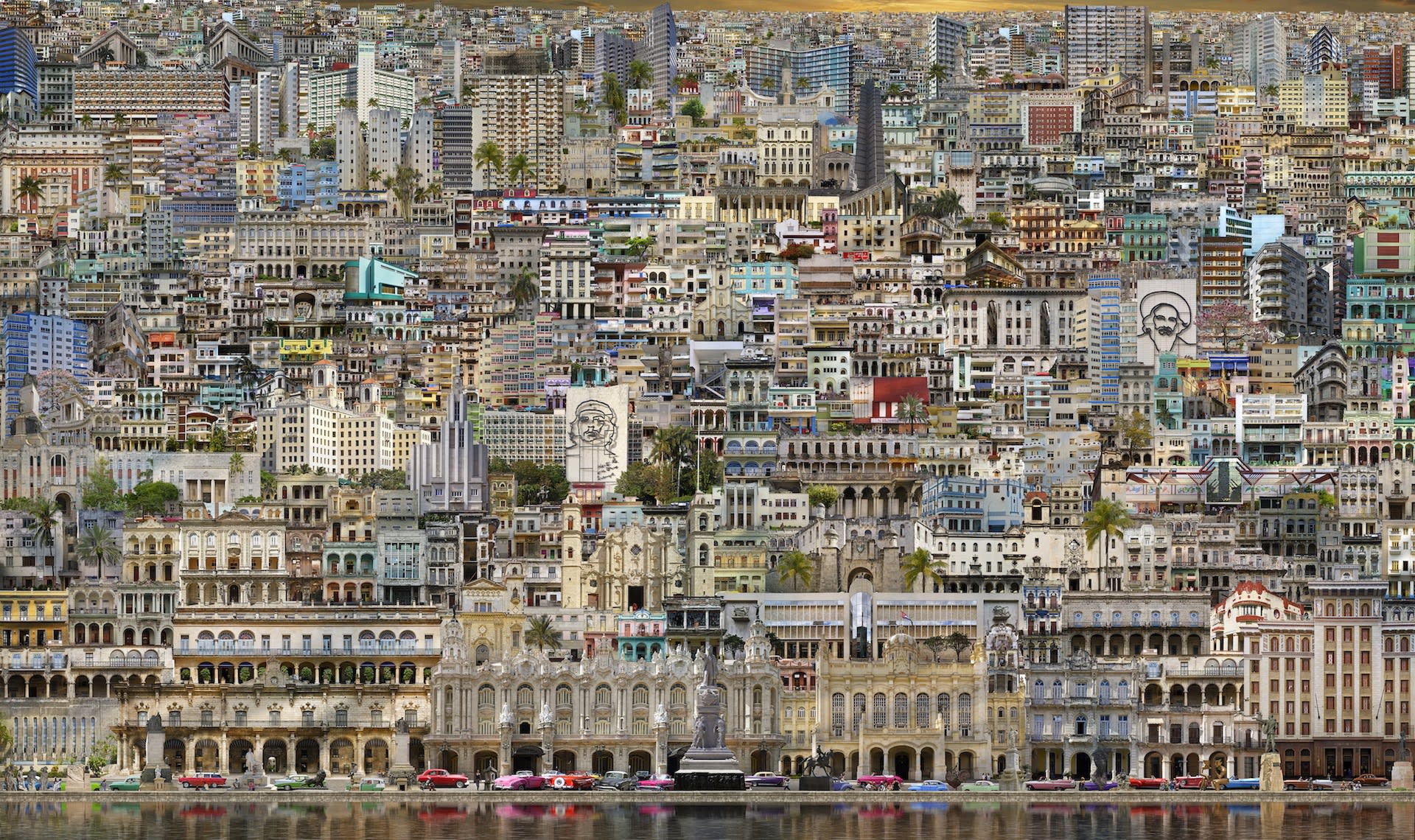 Cuba Veduta, 2017
C-Print mounted on aluminum and plexi
58 x 98 in
Edition of 8 + 2 AP