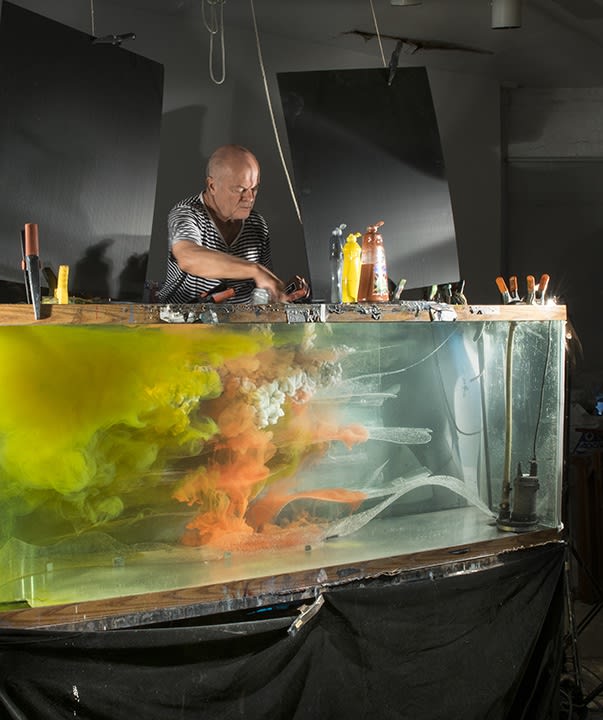 Our June artist of the month is American photographer Kim Keever. Having graduated with a degree in Thermal Engineering from Old Dominion University, Norfolk, VA, Keever briefly pursued a thermal engineer career, working primarily on NASA projects. However, by the late 1970s, his passion for photography took over and he switched paths to become a full-time artist. Despite the stark contrast in direction, he has always drawn on his original vocation by retaining a scientific and innovative process in his artistic work.
Those who are familiar with Kim's practice know his primary tool in the studio - a massive 200 gallon water tank. He he first began by creating atmospheric and other-worldly landscapes, which at first glance are redolent of the Hudson River School and the German Romantic painters. In fact, they are detailed scenes that he built himself by placing objects within the tank. He then dropped a small amount of paint, initially just to create the impression of clouds. He became increasingly interested in the random nature of the addition of paint and in 2013 abandoned landscapes to concentrate solely on abstract images.
Kim Keever started his photography career in New York City, working for over four decades on the Lower East Side of Manhattan. Recently he has moved to Miami where he now lives and works.
Keever's work is in numerous important public and private collections, including the Metropolitan Museum of Art, New York; Museum of Modern Art, New York and the Brooklyn Museum of Art, Brooklyn. Waterhouse & Dodd has represented Kim Keever since 2013. Recent and upcoming exhibitions of Kim Keever's work in the US include Crystal Bridges Museum of American Art, North Carolina Museum of Art, New Britain Museum of American Art in Connecticut, 2018, and Figge Museum in Davenport, Iowa. 2019. Keever's work will be shown internationally at the Alfred Ehrhardt Foundation, Berlin, 2018; Kallmann-Museum Ismaning, Museum Haus Ludwig Saarlouis, Stadtgalerie Kiel, 2019; and Alfred Ehrhardt Stiftung in Berlin, 2020.
Waterhouse & Dodd sits down with the artist to discuss his practice, inspirations, and how he's managing his creative life now during the COVID-19 crisis.
WD: What motivated you to start making art, was there an event or experience that inspired you down this path?
KK: It was in first grade that I knew I loved making art partly just for the sake of it and partly because I was better than the other kids and they admired what I did. I always remember most adults asking me what I wanted to be when I grew up and I never knew what to answer. I would think to myself, why would I be anything but me. It wasn't until much later in life after going through most of a graduate degree in engineering that I realized it really wasn't what I wanted to do and making art was what I really wanted to do. I had always made art so it wasn't exactly a big jump.
WD: Walk us through your process from the moment an idea strikes to completion.
KK: I feel like I get my best ideas just walking down the street and letting things pop into my head. Sometimes I find things on the street that I can put into the 200 gallon aquarium as props. I'm always looking for things that allow the paint to flow downward through the water in an interesting way. The rest is all experimental. I never know what I'm going to get until I have gone through the process of pouring the paint into the water and photographing it many times. It's a very random process and occasionally I see something I haven't seen before. That's what I'm really looking for.
WD: Can you talk about some of the most significant influences on your work over the years?
KK: Though I would never have been admitted it at that time, my mother was a strong influence in my artistic direction. She would always exclaim to her friends, "my sons an artist". She would say it with such jubilance that it deeply affected me. I never took being an artist seriously until I realized that I only had one life to live that I knew of. After that, it was an absolute decision and I promised myself I would never turn back. Then there is Picasso. He was the artist I greatly admired for his ability to make it so much work in so many areas of artistic endeavor.
WD: Tell us about your imagery, what made you focus on abstracted forms and color?
KK: Originally I was making landscape forms out of plastic plants, model railroad trees with plaster mountains and placing them in the water filled tank. I would photograph them with paint clouds in the water. I did this for many years and eventually started making plaster heads, then there was a dog series made of plaster covered sticks and a bird series made of plaster and feathers. Eventually it dawned on me to just try putting paint in water and see what would happen. About 6 years ago I made my first attempt and was very happy with the results. I've continued the idea and I continue to be pleased with the results. Since the whole process is so uncontrollable and random, abstract forms are generally what I get. One reviewer called me an "underwater Jackson Pollock." Occasionally I'll get very suggestive paint clouds that look like faces, figures or animals.
WD: Tell us a little bit about your current situation, you've just had a big move from New York to Miami - what you're working on in the studio now?
KK: I have a wonderful studio space here in Miami but I don't have the tank ready to go. It is set up but I need to place more plywood under the tank to help spread the weight onto the floor. Because of the virus, the condo building I live in isn't allowing workers to come in so I have to wait until I can get enough people to lift the tank out of the way and place a better base on the floor. In any case, there's plenty else to do. I brought down 154 boxes and some motley furniture. I'm still unpacking and trying to get used to the area. I also bought a car which is necessary in Miami and I'm getting acclimated to the area. I definitely don't miss the cold weather in Manhattan.
WD: Finally, how are you coping with the current COVID-19 crisis? Has this situation sparked any new or different creative pathways in your work or inspired you to take up any other hobbies?
KK: I feel like I'm under a very mild depression all the time. I miss the closeness with people and the ability to go to a movie or restaurant. I also don't enjoy the blurred conversations through masks. I'm sure we all feel that way. One of my hobbies was chess. Actually I should call it an addiction. I'm glad I won't be going back to it. I was good at it but never great. I would play at one of the clubs in Manhattan every day for 6 hours or more. After about a year I would start feeling guilty about wasting my time and my game would deteriorate so I would quit. But it was like smoking, a couple months later I would come into the club convinced I could play a couple games and walk away. The next day I would be addicted again.
Kim Keever in his former NYC studio.
Abstract 36298b, 2018
Archival Pigment Print
44 x 44 in
Edition of 5 plus 2 artist's proofs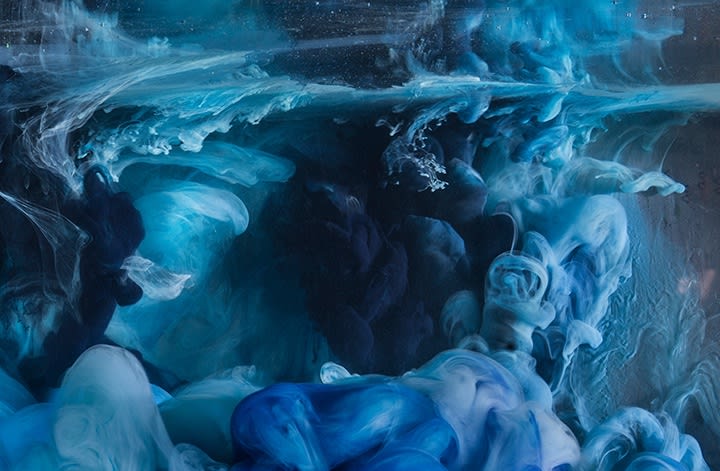 Abstract 44595d, 2019
Archival pigment print
44 x 64 in
Edition of 5 plus 2 artist's proofs