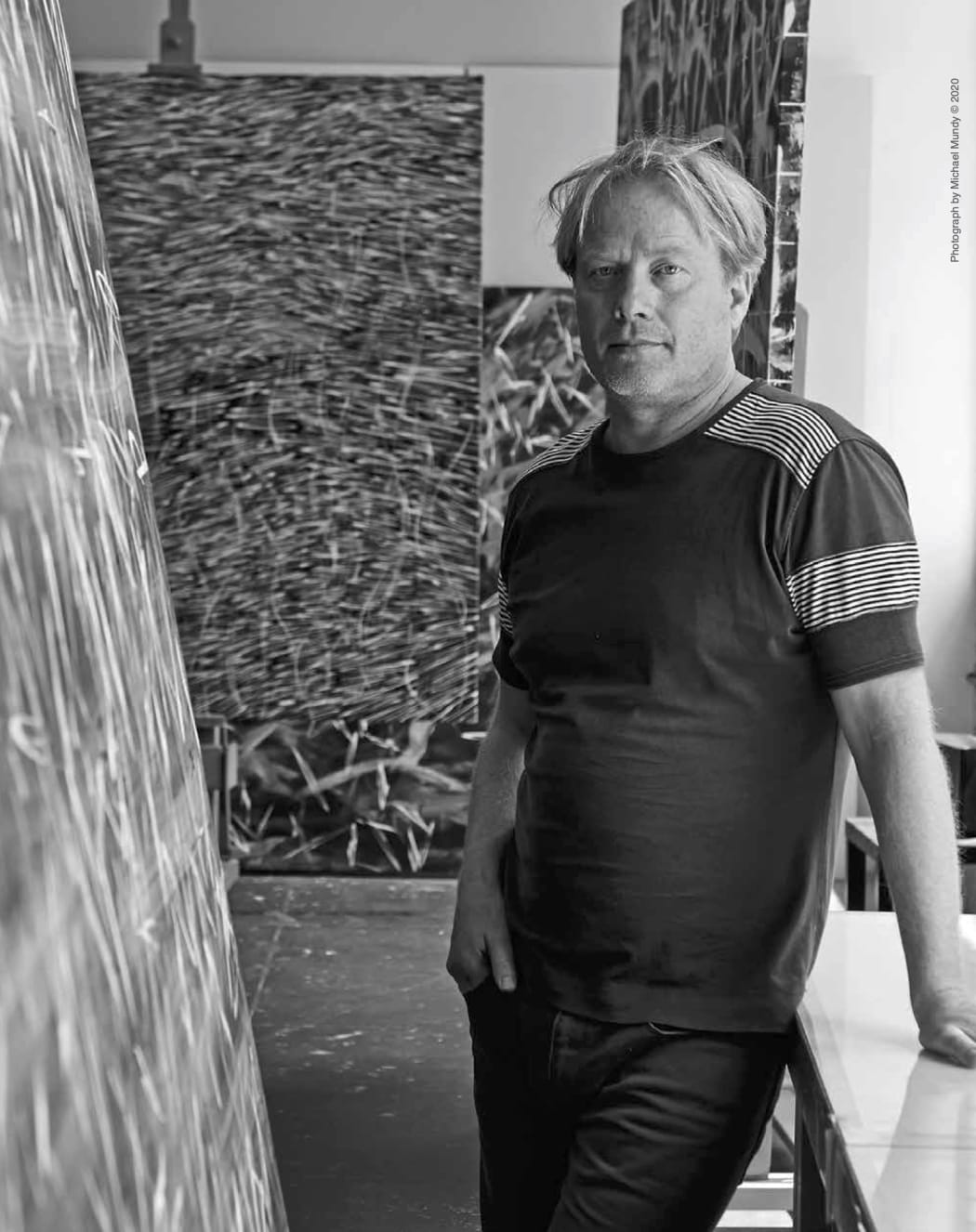 Our May Artist of the Month is contemporary American artist Doug Argue. Born in St. Paul, Minnesota and based in New York City, Argue's thirty-year painting career has culminated in a striking body of abstract work that encompasses a diversity of mediums and formats. His compositional approach extends to both spatial construction and figural depiction in an oeuvre that lyrically conjures metaphors and art-historical references to the past and present.
Integral to Argue's vocabulary of shapes, computer-generated stencils of scattered letters dissipate across these illusionistic fields to form their own lexical cosmos. Culled from literary classics such as Moby-Dick to sonnets by thirteenth century poet Petrarch, Argue's atomized texts are inspired by psycholinguistic and scientific phenomena. The artist explores abstraction syntactically: paragraphs, sentences, and words compose and decompose into one another, until they are only discrete letters; stretched and skewed, elastic and malleable as meaning itself.
Waterhouse & Dodd sits down with the artist to discuss his practice, inspirations, and how he's managing his creative life now during the COVID-19 crisis.
WD: What motivated you to start making art, was there a special event or particular experience that inspired you down this path?
DA: When I was very young young my father read me the Time life series of books on artists from Leonardo to Duchamp. It was a rare bonding moment between us and I loved the ideas and history. It has always been the combination for me, ideas and history. The flux. The movement. No idea stands, it always transitions into something else.
WD: Walk us through your process from the moment an idea strikes, does your work start with sketches? Photos and/or research?
DA: It's always different. For example one of my most famous paintings, an infinite chicken coup, the idea came to me in a bar in Chicago having a beer and reading a book by Kafka featuring a dancing dog, who panhandled and wore a dress and danced on the street for cash thrown to him and his organ grinder. The dog was thinking, I am who I am by how I get my food. I thought "How do I get my food?" And the image of the painting popped into my head pretty much as you see it, although it took three years to make it. I never looked at a photo. The newest paintings are created from photos screen captured on the internet. I consider this a kind of photography. Other paintings I am currently working on are created as I work and improvise in the moment, I have no preconceived idea and just want to see what will happen.
WD: What have been some of the most significant influences on your work over the years?
DA: Receiving the Rome Prize, Art Historians, Artists who are friends and Artists who are long dead, Novels, Poetry, Pop Culture, Nature, Family, and the Human Condition - Birth, death, sex, politics and religion.
WD: In much of your work over the last 2 decades you have been using letters - why? Where does the interest in utilizing them in your compositions come from?
DA: They started with the commissions for the World Trade Center. My idea was that as atoms and chromosomes are basic building blocks to matter and life letters are basic building blocks to language and culture. The paintings are in the new World Trade Center, (originally called the freedom tower), where people go to work every day, not in the memorial. I took the letters from the book of Genesis and atomized them, turning the text into unreadable individual letters, full of potential to be something new. A meaning of the word genesis is "a new beginning" and I feel each generation creates the language and ideas it needs to move forward. Since then the letters have taken on many meanings for me, some very different, but always it is history and flux.
WD: Tell us a little bit about your current body of work, what you're working on in the studio at the moment.
DA: I am taking screen shots of web cams and painting from the photos I take. People present themselves differently to their own cameras and video feeds, and often they are done in their homes, making each setting a unique and interesting glimpse into a different space. Have we ever had such access to peoples private spaces before? In addition I like the weird cropping of the images, perhaps because the cameras are stable and the people move, and they are online for hours and hours, eating, sleeping, walking around, and so on. Also the cameras for web cams, their technology is different from old hand held cameras and so shows people differently. I feel it's a good way to do portraits, still life and eventually nudes that are new and yet full of history when expressed through painting. I am doing them with Gouache on Paper right now, which can be seen as a very craft orientated medium, so it is very difficult to pull off and keep the character of the painting interesting. I am pairing them with abstractions done with the same color palette to create a connection between the two images. I am very bored with the dichotomy of abstraction and or figurative art and love combining the two into one painting. What interests me is the overall character of the painting, its personality. I also always like to do something that I don't think could have been done at a different timein history, since the web and web cams are very new these could not have been done 20 years ago. When I did the chicken painting of an industrial farm many many paintings had been done of chickens but nobody could have visualized infinite caged chickens before and have it seem as though it was real.
WD: Finally, how are you coping with the current COVID-19 crisis? Has this situation sparked any new or different creative pathways in your work or inspired you to take up any other hobbies?
DA: I started the web cam images in quarantine because it is a way that people are communicating and can also be done in solitude. A new world. I am curious about trying zoom images or other forms of new communication and imagery as well. I think the next image may come from the owl cam I was sent a link to recently.
Doug Argue's work has been the subject of numerous solo exhibitions including at the Richard Heller Gallery, Santa Monica, and in New York, Edelman Arts and Haunch of Venison. His work is held in the collections of the Minneapolis Institute of Arts, Walker Art Center, and the Weisman Art Museum, where he will also have a retrospective exhibition opening in June of 2022. Two of Argue's paintings were commissioned for the lobby of One World Trade Center in Manhattan, his work can also be found in numerous corporate and private collections. Doug Argue has been the recipient of multiple awards including a Pollock-Krasner Foundation grant (1995) and the Rome Prize (1997).
Waterhouse & Dodd offers a selction of recent works by Doug Argue, which can be found on his Artist page
Argue's work is also currently featuring in the gallery's benefit exhibit In this Together and on our Artsy page as a solo exhibition benefitting Feed the Frontlines NYC.